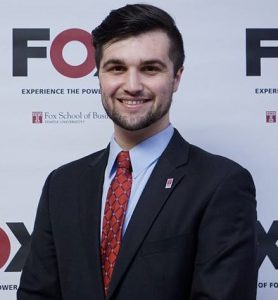 Major: Management Information Systems
Minor: Computer Science
Graduation: May 2019
GPA: 3.48
Hello All,
Going through the Fox School of Business for my Bachelors of Business Administration is truly a pleasure. Being a sophomore finding an internship is not easy, luckily, I have landed one this summer (2017) at Prudential Insurance. This opportunity would not have been possible without the resources that Temple has to offer.
I am a member of the Association of Information Systems and I participate in intramural soccer, I have been involved in these activities since August 2016. I am very passionate about soccer, I was once a volunteer coach which was a great experience. I also referee soccer, I am a bit of a fanatic!
Through my courses in the management information systems field, we have learned a lot of great software programs including; R, Rstudio, SQL, HTML, CSS, and PHP. All of these course material will help me over my internship this summer because my job includes data analytics. The 2502 class that I took was named Data Analytics, where we used MySQL workbench and R to really get the important information from large amounts of data.
My most relevant work experience was when I was a bookkeeper for Summit Roofing & Siding co. I had to schedule jobs, order materials, maintain bank statements, pay bills, and most importantly communicate with many people. This opportunity had exposed me to the real business world which was key to my development as a business professional.
If anyone would like to get in touch with me, please connect with me on LinkedIn. Thank you for visiting my profile, have a nice day!