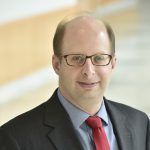 Fox MIS continues to make an impact through our students, faculty, and programs. I am pleased to report that for the sixth straight year, Fox MIS is ranked in the top 15 by US News and World Report. This success is an amazing accomplishment that reinforces our place among the top IS programs in the world.
MIS students make an impact as the next generation of corporate IT leaders, but also by creating new products and services. Read about our MIS alumni entrepreneurs who use the skills they learned at Temple to start new business that help people find a restaurant, deliver targeted promotions while using free Wi-Fi, or use advanced sound detection to catch a burglar.
MIS faculty make an impact through rigorous, relevant research. Our faculty rank #2 for research productivity in the top journals according to the Association for Information Systems. Read about one faculty's study investigating how hospitals can reduce their testing costs by sharing information through Health Information Exchanges.
MIS programs make an impact by bringing our unique expertise to new audiences. Read about the expansion of our IT Auditing and Cybersecurity (ITACS) program to China, in partnership with the Beijing National Accounting Institute. In November, the Institute for Business and Information Technology presents a leading-edge symposium on Cognitive Computing and Artificial Intelligence, an area rapidly reshaping multiple industries worldwide.