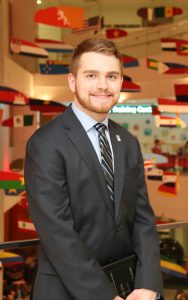 Major: Management Information Systems
Graduation: May 2017
Overall GPA: 3.96
Thank you for visiting my ePortfolio!
My name is Eric Koeck. I am a senior pursuing a Bachelor of Business Administration in Management Information Systems at Temple University's Fox School of Business.
I am heavily involved in the Temple MIS community. During my junior year I served as President of Temple's Association for Information Systems student chapter. For the Fall 2016 semester, I served as a Fox Peer Teacher for MIS 3501 Data-Centric Application Development. The Temple MIS Department selected me for a Society for Information Management Future Leader Award in Fall 2016 and the MIS 2017 Student Leadership Award in Spring 2017.
Throughout my time at Fox, I have gained valuable internship experience in both industry (NBCUniversal) and professional services (PricewaterhouseCoopers). I have chosen to begin my career in the Advanced Risk and Compliance Analytics practice at PricewaterhouseCoopers in Philadelphia following my graduation. In this role I'll be helping clients understand their data by delivering actionable insights to drive better business decisions. I am looking forward to all the opportunities this role will present for learning and growth.
Please feel free to view my resume, connect with me on LinkedIn, or email me at Eric.Koeck@temple.edu with any questions, opportunities, or advice. Thank you for your time!