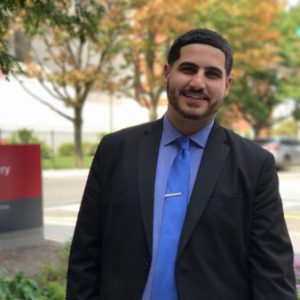 @mojahed-ibrahim
active 3 days, 23 hours ago
Mojahed Ibrahim BBA in MIS, Fox School of Business, Temple University Email:
tuf41716@temple.edu
Biography Thanks for looking at my eportfolio! I am originally from Philadelphia, PA and went to Northeast High. I am previously worked at Wells Fargo as a Bank Teller but I am now a Front End Manager at Cousin's Supermarket. I chose MIS as a m […]
View
Think for 100 seconds, and summarize the key things that you learned in the class during Week 4

This week, the class went over ClearOrbit case study. The one point I found the most interesting was why most of the softwares adopted by companies usually fail. This is due to company employees not understanding how to use the software, the benefits that could be achieved by using the software, the efficiency the software would bring to the daily work and the frustration employees face from not knowing the functionality of the software. Therefore, it is important to educate company employees on how to use the software so the adoption actually happens. Another important topic was on RFID. There are two types; Passive and Active. There are advantages and disadvantages to both type of RFID. Companies can choose which RFID to utilize based on the requirements the company is looking for the product to meet.

This week in class we talked about RFID and the Internet of Things technology and how we continue to see it used more and more to help make our lives and business easier. RFID tags are attached to items in order to track them. For example, security tags on clothing or other items in retail stores or the chips used in EZpasses to collect tolls from cars use RFID tags. These are two different types of RFID tags. RFID in clothing tags are passive tags which are much smaller, cheaper, and must be very close to the item to scan the tag. RFID in EZpasses are active tags that are able to reach much farther distances but are battery powered. RFID is also very helpful for a business to identify, track, and locate items as they move through the supply chain.

In week 4 we discussed the WWT ClearOrbit Case and the inefficiencies that occurred within their supply chain. During this discussion, we spent quite sometime talking about enterprise resource planning (ERP). ERP is a software used to digitize a business. This software provides a common format throughout all interfaces and integrates areas such as planning, purchasing and inventory. We also discussed the Internet of Things (IoT). IoT is a system of computing devices that are not normally connected to the internet. Examples of this include; thermostats, door bells, and smart watches in the consumer setting, and machinery, engines, and airplanes in the industrial setting. The IoT marketing is continuing to grow and will affect supply chains in terms of tracking, real time visibility, autonomous vehicles and much more.

In week 4 we discussed how RFID chip technology has changed, and has the potential to continue to change, the supply chain world. Through RFID technology, there is no need to open up and individually scan every item at a warehouse/distribution center when it arrives, as a single "gate" is able to scan thousands of items at a time. This advancement in technology enables much more accurate and speedy shipping and accountability for mistakes in shipment. Pairing this technology with a database can allow a company to have near-instant updating of its inventory and accounts payable/receivable functions in the context of goods shipped. In class, we also talked about how for some companies, RFID technology is not feasible. That being said, perhaps more small-scale manifestations of the technology can be adapted to benefit businesses of every size.

This past week we talked about RFID and its implications in the supply chain world. There are a lot of benefits to using RFID, such as increased accuracy, improving inventory handling and having less stocking issues in a warehouse. I was very interested in the different applications of RFID. Even though I already knew about technologies like contactless payment systems and passport chips, I never associated it with RFID. Furthermore, some of the challenges we discussed in class of this technology include lowering the price of implementing RFID so it becomes more accessible and having to modify your IT infrastructure to be suitable for this technology. It was also interesting to learn more about the internet of things and its evolution. And also seeing how it can and probably will change the way we do supply chain, through automation, real time visibility and tracking systems.

This week we've learned a lot of things about RFID and the application about it. The most common using on RFID is the ezpass we used everyday. The RFID enabled more possibility on the way of shopping methods. The RFID reader consist of a radio frequency module, a control unit and an antenna coil which generates high frequency electromagnetic field. On the other hand, the tag is usually a passive component, which consist of just an antenna and an electronic microchip, so when it gets near the electromagnetic field of the transceiver, due to induction, a voltage is generated in its antenna coil and this voltage serves as power for the microchip.There is really not necessary of using cash anymore. The RFID technology will also brings the inventory management to another level. However, the price of RFID is pretty high. I am suggesting that bring the RFID cost lower so there will be more applications on RFID.

I found this weeks class on RFID's and IoT very interesting. We don't even realize how much we use RFID technology, I was shocked to hear that E-ZPass, something that I use almost every day, uses this system. I also think that IoT is growing dramatically. For example, smart houses. I read an article on a home that has a robot control every aspect from the microwave to the lights. This is becoming more and more popular to simplify our lives. I am looking forward to seeing how this changes supply chain and our careers as we grow professionally.

We learned about RFID technology, when it was created and how it was used then, and how we commonly used today. An example of a modern used for RFID's are the expats system we use. RFID's are not only convent, but also make things more efficient and less costly by tracking products with real time data. Fewer items will be lost, which means more money be made. These tags maybe be more expensive initially, but after a few years of taking advantage of all the upsides of them, it will surly pay for itself. If major companies moved to using RFID's and making them standard in the industry, Supply chain as a whole would be significantly faster and more efficient.

Last week we discussed RFID, radio frequency devices, and IoT, Internet of Things. They are both valuable tool for a supply chain. RFID helps track inventory through radio wave emitting device. IoT is basically a network of objects that aren't computers that share information and communicate as one large network.

In week 4, we went discussed RFID, the IoT, and the positive and negative effects of both. RFID gives supply chain managers extreme visibility by allowing them to track shipments in real-time. RFID increases the accuracy of orders, reduces inventory handling costs, and reduces losses from theft. There are some drawbacks to RFID, specifically information theft. We also learned about an interesting topic called the Internet of Things (IoT). It is defined as any device that would normally not be connected, and its allows devices to share and collect data. Overall i think there is a lot of untapped potential in these fields and I wonder how these ideas will change how the world operates.

Last week, we examined the Clear Orbit Case. We discussed some of the major challenges of OME's MRO purchasing options. One major issue they faced was that they had too many vendors. What ended up happening was that they were forced into having to create more jobs to maintain the relationships between all the vendors. Another challenge that they faced was that when they wanted to implement a new system, their larger vendors were opposed to the idea, where their smaller ones were more ready to accept the changes. In the second half of the class, we discussed RFID and its applications to a company's supply chain. We also discussed the challenges that companies face when implementing RFID technology.

IoT is on a fast track to become a top priority for all large firms across the world. Linking customers, suppliers, and third party distributors all while cutting costs across the board. IoT links complicated business processes with big data analytics in order to determine short term business needs and future materials forecasting.

In class we learned about RFID and IOT and the many components that go into each. One of the most important components of RFID are the tags. The RFID tags are tagged to items that the RFID system is intended to track. These tags come in many different types that each serve a different purpose. We also learned in class that RDIF and IOT and complements of each other, RFID is basically a large scale project that is a form of IOT technology. The RFID tags are a vital component of an IOT system because it enables communication and the wireless exchange of data between objects in the IOT system. But overall these are both very complex and technologically advanced systems that can be vital for many businesses in the near future.

The topic of IoT was interesting and informative. Understanding the IoT ecosystem helped me understand why there are so many technology companies and what they are trying to target. I never fully understood what the primary objectives of RFIDs were until now. Understanding that it connects to the Internet of Things illustrates the potential RFIDs provide for the future of technology and inventory management.

Two things that stood out in class today were the implementation of RFIDs and the IoT. RFIDs are an excellent way to track and analyze the movement of products along the supply chain. This has immediate effect on a company's distribution efficiency as they have better knowledge of their inventory on-hand and transportation/delivery times. The growing use of the internet of things will also have implications on SCM as companies are better able analyze the flow and location of products within the supply chain. IoT also allows for less silo'd information within different functions on the supply chain with better use of real-time cloud storage and updates.

From the ClearOrbit case, we learned that collaboration among companies can be mutually beneficial. In addition, we found out more about the components and processes that are involved in creating an electric market. One useful tool to fully integrate a business involves ERP or enterprise resource planning. There are several layers to ERPs: presentation, logic, and data. Overall, it is a software that integrates all departments and functions across a business into a single system while still serving each department's specific needs. Benefits of ERPs include: uniform software solution across business department; time, effort and cost savings in all functional departments; reduced inventory carrying costs; and less occurrence of errors in operations.

What stood out for me in class today was RFIDs. RFIDs can track and process the movement of freight or product from facility to facility and even be implemented in grocery stores. Amazon has concept that utilizes RFIDs readers to cut out cash registers and credit people's accounts instantly when they take a grocery off the shelf.