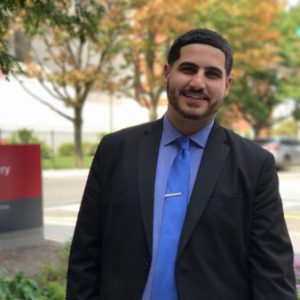 @mojahed-ibrahim
active 1 day, 23 hours ago
Mojahed Ibrahim BBA in MIS, Fox School of Business, Temple University Email:
tuf41716@temple.edu
Biography Thanks for looking at my eportfolio! I am originally from Philadelphia, PA and went to Northeast High. I am previously worked at Wells Fargo as a Bank Teller but I am now a Front End Manager at Cousin's Supermarket. I chose MIS as a m […]
View
Think for 100 seconds, and summarize the key things that you learned in the class during the semester.

It was very interesting learning about the back-end intricacies of supply chain management. It was important to see what goes wrong if the logistics of an operation are overlooked or misforecased, as seen through the bullwhip effect. From there, we learned many ways the the IoT can both prevent those issues, as well as the many benefits from incorporating a well-function platform and system for the supply chain, such as optimal sourcing and blockchain. Overall, the internet has enabled smoother and more efficient transactions and logistics in regards to SCM.

Overall, this class was about how internet can make supply chains more efficient. We learned about a variety of ways, such as blockchain, EDI, automated warehouses, and more. My favorite topic was the bullwhip effect because we learned through notes and an interactive simulation (the beer game). It is essential to communicate with each player across the supply chain in order to achieve the best result. Personally, I enjoyed learning about the real world examples connected to the lessons. Each lesson directly related to a company who implemented a digital change in their supply chain. My group & I presented on the Hulu case, which was extremely interesting since most of us grew up using Blockbuster-type platforms but now use streaming services. Overall, I thought the class had a lot of real world implications that we will all see throughout our careers in SCM.

During this semester, MIS 3537 taught me how important the internet is to a successful supply chain. By completing a different case study every week, I learned so much about how different companies are continuously faced with unique supply chain problems. For example, my group presented the Nike vs New Balance case study where the companies were faced with an ethical challenge involving the elimination of import tariffs. Also, I really enjoyed completing the beer game simulation. It was fascinating to see how easy the bullwhip effect can occur and how important communication is within the entire supply chain. Lastly, I look forward to completing the GSCM simulation this week in order to gain a better understanding of the importance of accurate forecasting. I learned a great deal in this class that will only help me in my future supply chain career.

Through this course, I learned how internet can help build a more efficient and effective supply chain. There are high-tech softwares or equipments can help fasten the supply chain process, such as IoT, EDI, etc. There are also technique that help secure the product and the supply chain, which includes, RFID and blockchain. Bullwhip effect is another important concept I learned, which cause fluctuations along the supply chain that will effect the forecast, orders and inventory. However, companies can eliminate the effect by sharing informations and collaborate with partners. I've also learned to think in a critical mindset when dealing with supply chain issue, where I should think as the world changing, innovate new technologies, and collaboration with potential partners when needed. Overall, I learned a lot in this course, and looking forward to apply them to my career in the future.

This course was the first course Supply Chain course that I have taken in Supply Chain at Temple University. That being said, this means that a substantial amount of the material that I've learned regarding supply chains comes from this course. Nearly all of the basic supply chain and logistics terms that I know were learned in this course. Additionally, I've learned a lot about the advancement of technology in supply chain such as IoT, Blockchain, and AI. Concepts such as the bullwhip effect have made me better understand why more needs to me done in order to better coordinate and integrate various pieces in supply chains. Finally, one of the biggest takeaways for me in supply chains is that nothing is going to be around forever and that we should always be open to beneficial changes no matter how unfathomable they may currently seem. Technology has come a long way in the last decade and there is no reason for the same trend to not continue for decades to come.

– This semester, I learned about how the internet can make the supply chain more efficient by significantly changing how things were traditionally being done. The role of IoT, AI, RFID, and EDIs are important in supply chains to develop new products and faster services that provide greater satisfaction to the customers. I learned about smart homes, digital products, and even how IoT is implemented through Verizon Track and Trace at Pfizer, where an alert is sent to the FBI/911 immediately when a truck door opens (catches thieves fast).
– I also learned about the importance of effective communication between all parties of the supply chain through the Beer Simulation Game, which I enjoyed very much. Effective communication leads to the alignment of expectations and goals of both employees and management, and leads to a strong team, quality products and services, and happy customers.
– I also learned about blockchain and bitcoin, and how this technology is disrupting supply chains.

This class taught me the important role the internet can play in the organization and planning of a supply chain. It allows for faster communication between suppliers and customers, which greatly improves a supply chain's performance. Through completing the various case studies we had during the week, I learned how important it is to use digital solutions to fix supply chain issues. I really enjoyed the simulations we took part in such as the Beer Game and the Global Supply Chain Simulation. They provide a real world feel that teaches how important collaboration between factories, distribution warehouses, and customers is and what the effects of good forecasting has on your team's performance.

This semester I learned how information technology trends shape supply chain management in areas such as logistics, manufacturing, and transportation. Some key points that stood out to me include:
1. Bullwhip Effect – The effect refers to increasing swings in inventory in response to shifts in customer demand as one moves further up the supply chain Because of this, it is essential that everyone in the supply chain communicates effectively, and receive all information available.
2. Ethical practices can influence all the partner relationships involved in the supply chain.
3. Hulu Case – It was very interesting to learn how supply chain works for intangible good, as this was never something I gave much thought about.
4. Digital technologies can be implemented to fix supply chain issues.

It's clear to me that no industry will be able to escape the grasp of internet integration. Considering the degree supply chains are integrated in nearly every industry, a logical step to make is that being at the forefront of internet-enabled supply chains is both a wise career move for individuals and a wise operational move for businesses. But the question remains: what is the best way to fit internet integration into a company, given its specific operational needs and risk appetite? How will rapid technological change further impact supply chains around the world? The optimist in me sees growth opportunity everywhere in this space, but of course some solutions fit certain industries and certain companies better. This class has taught me a good deal of the technical terms needed for basic fluency, as well as given me a technological eye, seeing the internet potential for some seemingly benign shipping, fulfillment and logistical processes.

My favorite part is 2 stimulations. I really like to get involved in practice related to courses concepts. For the first stimulation, it presented the bullwhip effect with line charts. By being assigned to different roles, you can get a better understanding about how bullwhip effect affects the supply chain and the importance of communications. The second stimulation also gives you a general view of how the global supply chain works. It also shows the impact on the supply chain by choosing different suppliers and products.
Blockchain technology is another thing I really interested in. I believe combines with SC standards, it will become a new trend in the future.

As this was the last class, it. was very interesting to go over what we have learned throughout the semester within couple slides. We were able to learn things like how so many different types of supply chain works and how continuously changing technology impacts on the supply chain as well. These were not just concepts, rather of understanding how the current world is behaving to IoT and supply chain. With our understanding, we were given an opportunity to try simulations and were very helpful in understanding further into the supply chain.

As a supply chain management major, with a management information systems minor, this class was the perfect merging between the two subjects. I really enjoyed how it was very supply chain focused and incorporated the internet aspect into the topics. In addition, many of the topics themselves were focused on how the internet improves upon supply chains which was very interesting. Some of the topics covered were interesting to learn about and some of the topics I had never heard about previously. I really enjoyed the block chain discussions and I feel I have learned a lot about them through this course. Overall, I enjoyed this course and working on the cases with my group. I gained a vast amount of knowledge in this flied of study and I believe it will help me in my career in the future.

I felt as though this course had a good balance between real-world examples such as case studies, simulations, a guest lecture, and traditional lectures. For me personally, I thought the best example of putting this all together would have been the most recent global supply chain simulation. It really gave an accurate depiction of developing a product and putting it to market, but first deciding on how to allocate production among different locations based on your forecasted sales. The case studies made us think deeply about how technologies have changed companies mostly for the better along with the associated challenges. I think that overall this class helped further my understanding about the behind-the-scenes workings of supply chain management. I would continue to do the case studies and the simulations, I felt that they were helpful.

I learned a lot about the real-world challenges and solutions of supply chain through the various case studies. Through these case studies, I was able to gain perspective on the many ways to approach a problem and the things to consider when making a decision. I also enjoyed doing the simulations because it helped put me in a position where I could apply my knowledge and see the results of those decisions. Although group work isn't always a walk in the park, being put in groups really helped me learn how to better communicate with others and see the value in working with others for one goal/purpose.

Coming into this class, I wasn't sure what we'd be covering besides for driverless trucks and RFID's tags but I gained much more that that from this course. I really enjoyed how we dove deep into different businesses through case studies to see that these are all practical real life topics. I also liked the simulations which made the class more engaging. All in all wrapping up everything last week made me realize how much we covered. I'm looking forward to applying this knowledge in my professional career. Thank you for a great semester, all the best in your future endeavors!

This course was much more valuable than I previously thought when coming into it. It proved that supply chain is more than physical movements of goods around a supply chain and how technology can be implemented in the process. Our professor was able to guide us week by week and use real world examples to show us the importance of how automation, the internet, and robotics are already moving into our future career field.

This class has given me a better insight into how the supply chain works. I am Finance major with a minor in MIS and supply chain caught my attention from my Supply Chain major friend. Before this class, I had no idea about the great impact the supply chain has on any business and how much it contributes to a business' function. For instance, stock-outs impact the financial impact more than overstock or how the bullwhip effect can drastically fluctuate and affect the chain of distribution. As the semester went on, I was able to understand better and more effectively how the supply chain works and what it needs to function properly.

This course has taught me a great deal about Ethical Supply Chains and their place in this interconnected world. Efficiently supply chain allow goods/services to be distributed worldwide for the benefit of humanity. In 5 years, I think the concepts of IoT and Blockchain will be omnipresent throughout my business and personal life. I am excited to efficiently apply concepts learned in this class to companies I hope to be working in thus creating meaning and value.