Who knew making Facebook Ads were so easy!? I think even a child in kindergarten could figure this out! I decided to make an ad promoting our wonderful Social Media Class. I've never taken a class like this and I think it was a great experience. I thought this would be a great way to let others know about the exciting classes we have at the Temple MIS department.
Facebook guides you every step of the way in creating an ad. You first choose a title, description (135 character limit) and a picture in order to create your blog. I chose to use the picture that we took the last day of class. I just wish it was a little clearer! Once you finalize the details of your ad design, you then make settings on which demographics you would like your ad to be displayed to. I chose to have my ad displayed to men and women between the ages of 18-22.  I chose this demographic because that is the range of age for college students. Facebook then tells you approximately how many people are included in this demographic description (for me it was about 58,000 people).
I was a little worried about pricing before I started the ad, but the costs are very low. I set my budget to $2.00  because I am only running my ad for a few days and I doubt that many people will be interested in my ad…but who knows!? You are eventually charged per click or per impression. I had no idea what an impression was, so I decided to pay per click. Facebook has a suggested bid amount for the number of clicks. I predict that I will not get many clicks, so I chose to pay 67 cents per click just to be on the safe side. You can make payments using any major credit card (Visa, Mastercard, etc), or through Paypal. If you still haven't completed the paid assignment for our MIS class, I definitely recommend making an Ad rather than registering a domain.
Through out the semester, I used Sitemeter and Google Analytics to track my site traffic. Overll, I can honestly say that Google Analytics kicks Sitemeter's butt! Althought they both essentially provide the same information such as the number of page vists and referral sources, Google Analytics did a much better job of displaying the information.
There was a stark difference in the count of page visits and number of visitors on my site. According to Google Analytics, I had 221 page views and 101 visitors, while I had 185 page views and 109 visits to my site as reported by Site Meter. Both programs included a referral sources report, which I thought was interesting. However, Google Analytics reported the exact sites that referred my blog, how many times they visited my page, and which specific posts they viewed. I was shocked to see that my blog was referred through one of my classmate's Tumblr account, and they viewed my page 6 times! When I tried to view the referral sources on Site Meter, they reported that they were unknown!

Each program gave a detailed report of my daily, monthly, and weekly site visits, but I will admit that it was easier to view in site meter. Google Analytics was bombarded with a lot of information and sometimes made it difficult to get simple information. Overall, I think Google Analytics only seems better because of its interface and use of graphs, but Site Meter is beneficial to get quick information about your web traffic.
As much as  I love and log into Facebook (almost everyday), I like to separate my news and my social networking! In terms of reaching an audience, Facebook would definitely be a viable platform. Home to almost a billion users, Facebook would be a great site to display content to users, but might not be sustainable in the long run. Users of social networking sites had different preferences in terms of the content they use, and organizations must always be ready to adapt. As witnessed by Myspace, social networking sites always have the potential to fade away and become useless. Organizations should be wary of solely placing their content on social networking sites.
I believe news outlets should try to diversify their strategies when trying to build their online presence. Perhaps allowings a newsfeed for Facebook accounts or simply utilizing and building upon the company website would be the best options. If I had an online news organization it would definitely not be hosted on Facebook! I would definitely utilize my company website, make social networking accounts for my organization, and even create mobile apps in order to reach users. It will only be a matter of time before we no longer see news on the television anymore!
As Graduation is approaching (17 days to be exact, but who's counting

) I thought I would make a slideshow of some of my favorite pictures from Senior Year.  Enjoy!
Although we have reached the end of our social media innovation class, I will admit that it has been a positive experience with the professor and my classmates. As a business student and soon-to-be graduate, I feel that a key take-away I have learned from this course is how to effectively utilize social media within a business setting. I also learned how to use a blog better and understand the benefits that can come along with using it.
When I first entered the class, I thought we were going to learn about social networking sites and how to use them. I quickly learned that there is a distinct difference between "social network" and "social media". Through our weekly discussions and tasks, I was able to learn about various concepts and technologies that can be used in organizations. For instance, we discussed different options that we could use to drive site traffic on our websites. During that discussion I learned that there are many ways to drive site traffic such as improving your search engine optimization or using websites such as StumbleUpon. This class was very interesting, and I recommend every student to take it as an elective.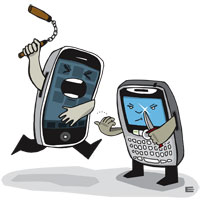 Photo Credit: http://www.slate.com/id/2173481/
This past July, I was due for an upgrade and I had the daunting task of deciding whether I was going to buy a Blackberry Torch or Iphone 4. I would consider myself a phone junkie because I always take it upon myself to thoroughly research any phone I would consider buying. I ask others, get information from Phonescoop, and visit the carriers website to find out about all the specifications f the phone.
This particular summer, there were viral campaigns for both the Iphone 4 and Blackberry Torch. For the past four summers there is always anticipation for a new Iphone model. The Iphone was highly anticipated because the phone included the new Facetime feature in which its users can video chat. The Blackberry torch was also highly anticipated because it was a  revised Touch screen phone with a new operating system. As a previous Blackberry use I was very excited! However, I was being urged by my friends to get the Iphone. For many weeks I would watch Blackberry and Iphone commercials and watch news reports about both phones. Eventually I ended up buying the blackberry torch and I am very happy with my purchase…even though I am considering buying an Iphone 5

I definitely think viral marketing will be more successful with network effects because it can be shared on a variety of networks and sources. As long as a product has a following and many people are aware of the brand, brand recognition will not be a problem.
Here are some videos for the Blackberry Torch and Iphone 4:
Photo Credit: [http://celestelaurent.com/?p=554]
There are many times when I wonder what I used to do when I didn't have a cell phone, Facebook and Twitter. I often say that I probably procrastinated less, was on time, and had more personal interactions with my friends and family. Social media has definitely taken over my life! Social media is new and different because it allows anyone to instantly interact with others. Social media is becoming increasing popular through social networking sites such as Twitter, Facebook and Linkedin. Social media allows users to connect their messages and information to its audience.
One example of social media being around for quite some time is the use of the telephone, television, and radio. These various forms of communication allowed its users t0 receive information and content daily.
Social media requires new skills and capabilities for organizations because they need to spend much time benchmarking and researching how social media will benefit their organization. Social media is becoming increasingly popular within organizations because it allows them to spread awareness about their company, interact with their users, and gain brand recognition.
I am please to inform everyone that I finally have 3 four square badges! I am the proud recipient of the Newbie, Adventurer, and Swarm Badge.
Newbie
The newbie badge was the first badge I received when I signed up for Foursquare. The newbie badge is given to you when you make your first check-in. My first check-in was in my apartment in North Philly.
Adventurer
The adventurer badge was given to me once I made 10 check-ins.
Swarm
I was really excited when I got the swarm badge. I got the swarm badge  last Sunday when I dropped my friend off at the Philadelphia airport. It is called the "swarm" badge because over 50 people checked into this venue.
Idea # 1: TWITTER!!!
Description: Using twitter, I plan to make a series of tweets regarding my blog. I will also ask my friends to Retweet my tweets and also try to get new followers to read my blog as well.
Rationale: It has been a year since I've been using twitter, and I think it's one of the most effective social networking sites today, besides Facebook. I also use twitter for my student organization and over a few months, our followers increased and I usually see my friends retweeting any information that we post on our organizational page.
Achievement:  My friends are always wondering what I'm doing, and where I'm at, so I would definitely love to share what I have been doing in my MIS class. As users of social networking,  I hope that I can educate them about social networking beyond "tweets" and "likes".
Measurement: I can measure the success of my activity by the increase of followers, retweets, and using google analytics or sitemeter to monitor the site visits of my blog.
Idea #2: Youtube
Description: In order to use Youtube, to increase traffic on my blog, I would post funny, dramatic, or interesting videos to social networking sites and have links to my blog under my videos.
Rationale: Youtube is a popular website that is frequented by many people. Sometimes you can actually name a video and then have the video show one thing. For example, I could name one of my videos named "Pictures of Britney Spears pregnant with twins" and then have a message that says for access to the pictures, visit Lydia Bailey's blog

Achievement: I hope to attract viewers to my blogs, but also to my youtube account, where I have amazing videos!
Measurement: I would measure my success by the number of viewers on my videos, and increased site traffic through sitemeter and google analytics.
Two of my most favorite brands are Apple and Blackberry, which are two major competitors within the mobile communication industry. There are also two brands that I currently cannot live without! Blackberry is the name of the smart phone device owned by the Research in Motion Company (RIM).
As a business student, I use a blackberry to check and send e-mails, schedule appointments, and use a variety of apps for personal enjoyment. I currently own a Blackberry Torch, which is the latest smart phone in its lineup. After searching through Blackberry's Twitter and Facebook pages, I would say that they have have a huge social media presence. Blackberry's Twitter pages allows its followers to find out new product information, ask questions to RIM employees, and discuss what they like or dislike about their products. I noticed that Blackberry has a fan page as well as a page where blackberry users can download the app to their phones.  On the company website, you can easily find links to their twitter and facebook pages.
Apple Inc. is one of my favorite companies because I enjoy using the Apple Ipod product. I absolutely cannot live without my ipod!   From TV ads to billboard advertisements, Apple Inc. has done a great job at building their brand and making it a household name. While browsing through their website, I noticed that they focused more on marketing their products rather than social media. It was difficult to even locate the social networks that they are associated with. I logged into Facebook and realized that they only have a fan page that is not very interactive. However, they make great use of Twitter. In the same capacity as Blackberry, users can find out information about upcoming products, new operating systems, and get help from live consultants. What is unique about Apple is that they have twitter pages for other services such as the Appstore. Followers of the Apple App store can get tips and ideas on new apps that they can download.
Since both companies utilize Twitter more effectively, I would say that they are trying to increase awareness about their products and also build a relationship with its users. Using social networks can be at advantage for both companies because it allows them to hear feedback and make improvements. If I were in charge of a company's social networking initiatives, I would measure success by the number of followers/friends we have, and by seeing if there is a correlation between our social media use and sales.