Can I get your number? You can scan me!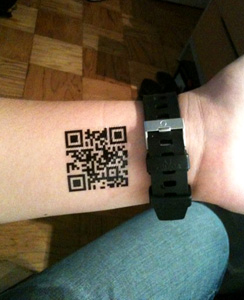 How would you feel about having your personal bar code?
This isn't the future, it is a new trend with QR Codes. These codes have been popping up everywhere in recent years- magazines, subway stops, and now even on people.
A QR (Quick Response) Code first started in the auto industry but now enjoys popularity around the world and across industries. QR Codes are unique because unlike the traditional bar code, QR's can hold much more information due to its two dimensional design.
According to the New York Times article Want More Information? Just Scan ME by Stephanie Rosenbloom, QR codes are appearing everywhere. At exhibits companies are handing out cookies, mugs, and other consumer items with QR codes on them. Postcards are now starting to include these codes. They have even appeared on a runway model's dress.
A new company, called Skanz, has begun selling bracelets with a personal QR code embedded in it. When scanned, this code brings up a personal web page with further information about the owner. Could this become the new business card? Or maybe a new sight in the club scene, people scanning each other rather than asking for numbers?
Most people, however, still do not use QR codes. The largest group (60.5%) of scanners are men with a household income of $100,000 or more. But with the rise of smartphone users there are bound to be many more users of QR codes.
What do you think about QR codes- are they practical or to difficult to use?
How would you feel about having a personal QR code on a bracelet or even a tattoo?
Are there any applications where QR codes would be most practical?
Photo Credit- http://www.barcodeart.com/store/wearable/tattoos/Andrew_Yu_full.jpg
18 Responses to Can I get your number? You can scan me!