Lunar Dec. 8 (Jan.19, 2013)
Laba Festival is literally the 8th day of the 12th lunar month of Chinese calendar. It is considered the prelude of Chinese Spring Festival. One thousand years ago, government would grant Laba porridge to their officials and servants and send rice and fruits to the monasteries. All the families would also make Laba porridge to honor their ancestors.


Chinese like to eat and drink Laba porridge on today. As a tradition, many Buddhist temples provide free Laba porridge to people in order to celebrate this festival and also share their food with others to show their good wishes.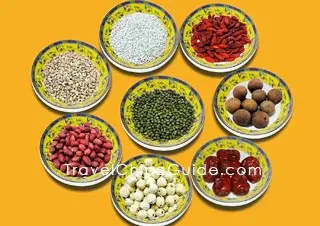 Image Credit: "Ingredients" on travelchinaguide.com, "people" on news.cultural-china.com, "Laba porridge" on http://ilearn-culture.com.
Lunar Nov. 7 (Dec.19, 2012)
Dongzhi Festival is also called the "Winter Solstice Festival", is one of the most important traditional festivals in China, holding on lunar Nov. 7 of Chinese calendar. About 2500 years ago, Chinese menstruated winter solstice via observing movements of the sun with sundials. On today, Chinese would like to get together and have a big meal together. All the family members would make and eat Tanyuan which is made of glutinous rice flour, symbolizing reunion in the Chinese culture. They believe that doing so would keep them from frost in the upcoming winter.
Image Credit: "title" on e3mall.blogspot.com, "Tangyuan" on mumscottage11.blogspot.
Lunar Sep. 9 (Oct.23, 2012)
Double Ninth Festival is called the "Chong Yang Festival", is celebrated on the 9th day of the 9th lunar month of Chinese calendar. Chinese people like to climb mountains, appreciate chrysanthemum flowers, drink chrysanthemum wine, and eat double-ninth cakes. The elder are especially meant to improve their health by taking part in the activities on today. Double Ninth Festival is also a time for family get-together. They are going to search to renew their appreciation of nature and to reaffirm their love and concern for family member and close friends.
Image Credit: "chrysanthemum" by Mary Bai on cits.net, "cakes" on kaleidoscope.cultural-china.com

Oct, 1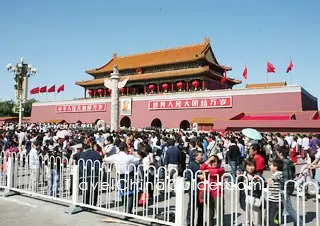 China's National Day is holding on Oct 1st every year. It's an important to the people nationwide and they celebrate it with great felicitation. After 1999, the Chinese government decided that giving people a seven-day vacation for celebrating National Day. It is regarded as another Golden Week for people when they can visit some long-cherished tourist attractions or doing something people like to do during the week.
In the early morning, many people would like to arrive at Tiananmen Square in Beijing to see the ceremonial raising of the national flag. During the evening, fireworks are set off to illuminate the sky brightly and gallantly in most the big cities of China.
Image Credit: "Tiananmen" on travelchinaguide.com, "fireworks" by Dan Pordes on cnngo.com.

Lunar Aug. 15 (Sep.30, 2012)
The story about Mid-Autumn Festival
http://www.youtube.com/watch?v=1w9h3hxxLag&feature=related
Mid-Autumn Festival is also called the Moon Festival or Mooncake Festival. It is very popular lunar harvest festival celebrated by Chinese people has a history of over 3,000 years. The festival is held on the 15th day of the eighth month in the lunar Chinese calendar. On today, Chinese family stays together, eats mooncake, pumpkin, river snails, taro, duck, and drinks wine fermented with osmanthus flower.
Image Credit: "mooncakes" on chinatravel.net, "river snails" on lifeofguangzhou.com, "wine" on ladies-with-bottle.blogspot.com.
Lunar Jul. 14 (Aug.30, 2012)
Ghost Festival is also called the "Hungry Ghost Festival of Chinese Taoism", the "Ullambana Festival of Buddhism", or "Mid-July Festival", falls on the fifteenth of every lunar July of Chinese calendar.
Chinese believes lunar July is a month for ghosts. It is similar like Halloween in Western Cultures. They believe that the gates of hell are thrown open, releasing lots of hungry ghosts to wander on the earth in search of food. People will prepare lots of the food, and floating lanterns on the river to serve as guiding lights for wandering ghosts. Meanwhile, many activities for ancestor worshiping are held everywhere, such as repentance chanting, giving food to starving ghosts and staging operas for occasion.
Today, most people pray for their ancestors to bless later generations. They would like to be under the idea of "respecting parents, honoring the elderly and blessing the people".
Image Credit: on shanghaiexpat.com.

Image Credit: on easytourchina.com.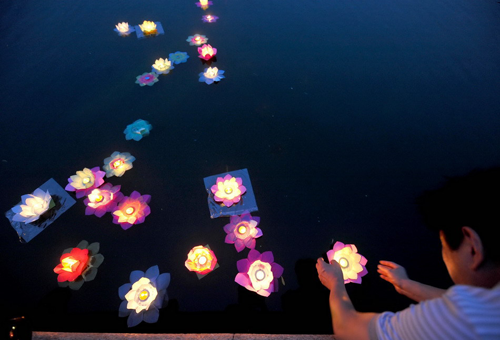 Lunar Jul. 7 (Aug.23, 2012)


Qixi Festival also called "The Night of Sevens", "Magpie Festival", "Chinese Valentine's Day", falls on the 7th day of the 7th lunar month on the Chinese calendar. This story is about the cowherd and the weaver girl in the late summer,
A young cowherd came across a pretty girl—weaver, the 7th daughter of the Goddess, who had escaped from boring heaven to look for fun. Soon, they fell in love with each other, and got married without the knowledge of the Goddess. They lived happily with their two kids.
But suddenly, Goddess found out weaver had married a mere mortal, and ordered weaver to return to heaven. On earth, cowherd was very sad because his wife had disappeared. His ox suddenly began telling him that if he killed it and put on its hide, he may go to heaven to find his wife. Crying bitterly, he killed the ox, and carried his two kids to heaven to find weaver. The Goddess discovered that and was angry. He scratched a wide river in the sky to separate the two lovers forever, thus forming the Milky Way between Altair and Vega.
As a result, they can meet each other once a year. All the magpies in the world would take pity on them and fly up into heaven to form a bridge over the star Deneb in the Cygnus constellation so the lovers may be together for a single night, which is the seventh night of the seventh moon.

Image Credit: "chocolate" on china.org.cn, "lover" on whatsontianjin.com.

Aug. 1
There is half-day off applicable to Military Personnel in active service, other people are not in this groups have to go to work or school on August 1st every year. Army Day is set aside to commemorate the contribution that People's Liberation Army (PLA) has made to China both past and present. Chinese president shows great concern for their soldiers, invites soldiers to reception on today. In addition, some soldiers and their families are rewarded with the opportunity to travel attractions for free. Some soldiers are presented with beneficial things such as valuable books, stamps, and extra vacation pay to mark the occasion.
Image Credit: on hyperbolicdiarrhea.wordpress.com.
Jul. 1


Every year, Chinese celebrate the Communist Party's anniversary on July 1st. All people will get day off on today in order to celebrate this huge holiday. Chinese President presents a 90 minute nationally televised speech on today every year. Chinese President reports the political highlight of several events marking the party's founding.

Image Credit: "President" on cbc.ca, "People" on telegraph.co.uk.
Lunar May. 5 (Jun.23, 2012)
Duanwu Festival is also called Dragon Boat Festival, traditionally celebrated on the 5th day of the 5th month every year on the Chinese lunar calendar. Duanwu Festival has a long history in China. This Festival is in order to commemorate Qu Yuan (340BC-278BC). He was a loyal minister in the ancient state of Chu. He also wrote many great poems in his life, which are passed from generation to generation. In 278BC, learning of the capture of this country's capital, Qu Yuan committed suicide by drowning himself in the Miluo River. That day was the fifth day of the fifth month of Chinese lunar year. People like to eat Zongzi and having Dragon Boat Races to commemorate Qu Yuan.
Image Credit: "Qu Yuan" on english.cntv.cn, "Bragon Boat Race" on whatsonsanya.com, "Inside of Zongzi" on elenietan.blogspot.com, "Eat Delicious Zongzi" on whatsonxiamen.com,