http://www.kizoa.com/slideshow/d2604172k6385892o1/philly-autoshow-
A slideshow i created on Kizoa, pretty useful tool. It was very easy to use and you can get photos directly from facebook
Whenever a friend or relative comes to Atlantic City, i always tell them you don't have to visit the casinos or the boardwalk or the famous shopping outlets, but you HAVE TO GO TO White House Sub. This place is amazing. see that line outside of the shop in the picture? thats not fake, it actually happens pretty often. This place price range is between $5-10, but EVERYTHING on the menu is great. When you guys go in with a group of friends, i would definitely recommend the mighty cheese steak marvelous! one of this can feed 2 to 3 friends and it only cost 15 bucks. I can list everything on the menu, but it would be pointless if you guys don't go try it.
2301 Arctic Ave, Atlantic City, NJ
Last week we ordered a 25$ appetizer, the plate come with few shrimps, few fish pieces, 3 different kinds of sources for the fish, a piece of meat. i was pissed that we order it. but wow, that was the most amazing appetizer i ever had. the fish pieces were sashimi from 3 different kinds of fishes. the meat was a nice piece of steak. I have to apologize taking you guys to such expensive place, i felt sorry for my wallet too. anyway, the bill came to be $150 for 2 people. that is above my pricing point, but the question is does the food worth that much. Started with the appetizer, i was expecting the entree to be out of the world. but disappointingly they weren't. so guys come try their appetizer.  690 W Dekalb Pike 

King of Prussia, PA 19406
Japanese food lovers, you have to try this place out if you haven't yet. Kabuki is a Japanese theater drama which is very popular among the Japanese population. Is a traditional form of theater that focuses on developing dramatic poses with the characters, they place tons to emphasis on expressions of emotions. This suppose to capture audiences attention by allowing them to feel the emotions of the characters. This place captured all my sorrow and sadness, and then through it out the window. The food from this place makes me that happy and i can't say that about too many place.  I never had a dinner with every single piece of sushi is great.
Hey guys, today i'll take you to a place my girlfriend and I both love very dearly. The Cheesecake Factory in King of Prussia. Let me tell you how did we discover this place. So when my girlfriend started to work in King of Prussia mall, she would get off at night. so on a valentine's day night, i went to pick her up to surprise her, she was really happy of course. Then before I went to pick her up, i really wanted to find a restaurant that we would both love. So i pretty much asked around, and my friend who worked there at the time told me to go try them out. So we did, and loved it ever since. This place decor to it variety on its menu is awesome, the food is very delicious but could get pricey. when you guys decided to come try it out, you got order the miso salmon, this is our favorite dish from here of all time.
location:570 Mall Blvd 

King of Prussia, PA 19406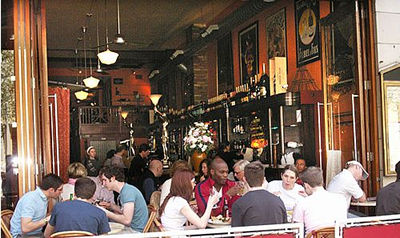 This time i'm bringing you guys to the Caribou cafe located in Center city. Their Variety of  mouth watering french food already ensure my next visit. I want to start tell you guys about the environment of this place, the old decor gave me a European style feeling.  Their menu is moderate on price, but the food is worth every penny. I ordered the cassoulet, also known as duck with white bean. I love duck meat, so this dish to me was perfect. The meat was tender and juice, the bean absorbed some of the juice from the duck. the combination is unbeatable.
1126 Walnut Street  Philadelphia, PA 19107
(215) 625-9535
Dolce is a family style Italian restaurant, i ate here for a couple times now, everything here is really good. even though some of the dishes can get pricey, but is definitely worth it for the quality of food and atmosphere. A dish that i recommend to you guys is the seafood pasta, their sauce is extraordinary. The best part about Dolce is they have an outdoor dinning area too, when is nice out, is a perfect place for you and your friends to chill and enjoy the weather. If you are a Italian food lover and likes a place with good atmosphere, Dolce is a place that you have to try.
Location:241 Chestnut Street Philadelphia
This place is good if you are looking for decent Korean food. I went to this place few days ago for my friend's birthday, I will definitely revisit. Majority of the customers in there were Asian, I take that as a good sign, I know their food has to be good. I tried out the sweet and sour fried chicken, it was good food. man that sauce is perfect with the rice. If you are a friend of spicy food, give this place a try.
Last week we stop by South Street, because we heard from our friends that there is this Indian restaurant in South Street that we have to try. So we decided to stop by and give a shot. I had the curry chicken, because i didn't what else to order lol. Next time I will probably try something else. The food from this place was good. i meant i haven't had any other Indian restaurant before, but the presentation, the taste was excellent.
236 South Street, Philadelphia, PA, 19147
Today I'm taking you guys  to Ting Wong, a Chinese restaurant that i went to a lot went i was little. This place is know for their won ton noodle soup and roast duck. For those who haven't try duck before, the texture of duck taste a lot like chicken, but is richer in taste. Go try the roast duck you will love it! This place is pretty busy around dinner time, so if you are the person that doesn't like to wait for a seat, do during lunch time.
Location: 138 N.10th Street
Philadelphia