Based on accessibility Internet can divided into 3 layers.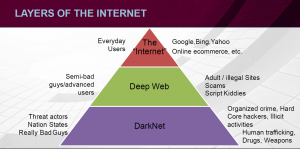 Clear Web or The internet is the surface area indexed by search engines like google, bing, yahoo, facebook etc.
Deep web is a subset of the internet that is not indexed by the major search engines. So one has to directly visit that site or know the address to reach to.
Dark Web or Darknet is hidden from discovery and cannot be accessed by using the standard access methods. It can be accessed using TOR, DarkNet Peer to Peer or P2P(Nodezilla, Vuze, Morpheus, Luckywire) or Invisible Internet Project or I2P network which are anonymous networks created from nodes which disguise online activity. To use TOR you need the TOR browser and also require invitation to access certain .onion domains hidden with the Dark web.
An .onion address is the result of Onion networking which is a low-latency communication designed to resist traffic analysis and surveillance. This helps disguise who is communicating with whom. There are many vendors within the Dark Web selling and buying Drugs, Weapons, porn, counterfeit money and fake identities, gambling, hacked accounts, hitmen etc. It provides a huge market place where you can find almost anything if you know what you are looking for and where. But the trading is not safe nor risk free.
Virtual currency is the most common method, which includes "tumbling," a laundering process which destroys the connection between a Bitcoin address which sends virtual currency and the recipient in the hopes of covering a user's tracks. Some vendors offer escrow services which holds Bitcoin in trust until goods have been delivered although value fluctuations linked to Bitcoin use makes this move risky.
Aside from using the Tor browser and VPNs, a number of buyers and sellers use free software like "Tails" which can be booted from flash storage to provide end-to-end encryption for the browsing sessions. Vendors and sellers will often also use public Wi-Fi hotspots to conduct their business to avoid being tracked
Legitimate uses include things like using Tor to anonymize reports of domestic abuse, government oppression, and other crimes that have serious consequences for those calling out the issues.
Source:
https://mylearning.isaca.org/store/streaming/stream-details.php?mode=stream&id=5666226
http://www.zdnet.com/pictures/10-things-you-didnt-know-about-the-dark-web/
https://danielmiessler.com/study/internet-deep-dark-web/