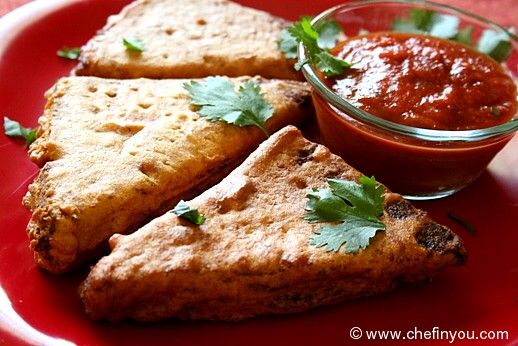 Ingredients:
Bread Slices – 5
Gram Flour (Besan) – 1 cup
Rice Flour – 1 tbspn
Turmeric powder (haldi) – 1/4 tspn
Salt – 3/4 tspn
Ajwain – 1/2 tspn
Red chilli powder – 1/2 tspn
Chaat masala powder – 1/4th tspn
Water – for batter
Garlic paste – 1/2 tspn
Oil – for frying
Preparation:
Cut the bread slices into half (rectangle or triangle).
Mix gram flour, rice flour, ajwain, red chilli powder, chaat masala, turmeric, garlic paste and salt.
Pour little water to make a smooth batter, it should be neither too thick nor too lose).
Heat oil in pan.
Dip the bread slice in the batter and fry till until golden brown.
Sprinkle pakora masala and serve with chutney.