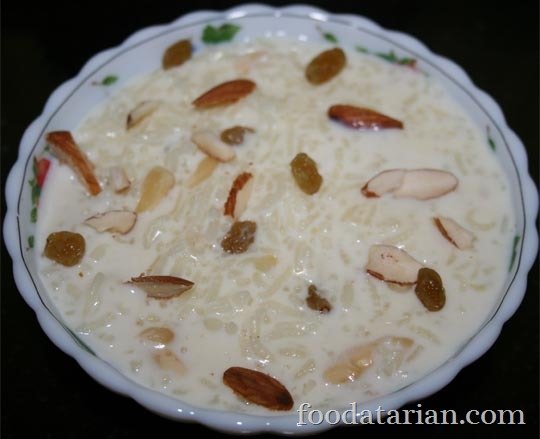 Ingredients:
Rice (washed and drained) – 1 cup
Milk – 5 cups
Cardamom seeds (crushed) – 4
Almonds(chopped) – 2 tbspn
Saffron (soaked in little hot milk) – 1 pinch
Pistachio nuts(chopped) – 1 tbspn
Sugar – 1/2 cup
Raisins – 8 – 10
Preparation:
Put the rice, milk and cardamom in a heavy bottomed pan.
Bring the milk to boil and keep stirring until the rice are soft and grains start to break.
The milk to should become little brownish
Add almonds, pistachio, saffron, and raisins.
Cook for 3 minutes
Add sugar and keep stirring until completely dissolved.
Remove the kheer from heat.
Serve either warm or cold.