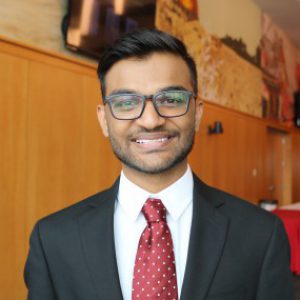 @prince-patel
active 3 weeks, 3 days ago
@tuf45019 Hey Kasey! This is Prince Patel. I saw we have similar interests in career. I wish you good luck with your college and your career in MIS. Thanks!
View
I discovered that my role requires many soft skills like time management, people skills, interpreting instructions effectively are equally as important as hard technical skills taught at school. I met my colleague that interned with my role last summer. He is very resourceful since he had my role in the past and answers all the questions i have.…[Read more]

What I learned is that although SAP has very American/European corporate culture, they are very lenient. at first i thought it was very formal dress code with people wearing dress shirts and dress pants. After working here more i realized thats not the case. Jeans and polo shirts are a part of company culture too. This experience made me realise…[Read more]

Hi everyone! I will be working with SAP at the North American Headquarters in Newtown Square PA. My role over summer is Go for Growth Manager for SAP Partners.
I will be in charge of the following:
• Building and designing internal web-based knowledge management system for SAP Partners (SAP Jam)
• Assist to create a new collaboration pla…[Read more]

My experience at SAP was amazing. I learned so many tangible skills and intangible skills. I really like the SAP corporate culture and am trying to land a full time offer. One of the best part about working at SAP that I did not mention before is their food! They have many dinning options with amazing chefs that cook delicious food. Taco Tuesdays…[Read more]

Organizational skills cant be taught in class. Everyone has different way of organizing their documents and appointments. Some use planners some use straight memory. I found simple technological tools like outlook calendar and to-do list was very important skill that came handy. Secondly, As I was in charge of managing my department's JAM site…[Read more]

At SAP, I have significant data analysis and BI work. I have developed this skill from my data science and data analytics class. The excel formulas, tips and trips I learned in these classes has made my job easier. Lumira, a Business Intelligence program by SAP is very similar to Tableau which I learned in Data Science. The skills I learned in…[Read more]

Micromanaging time is necessary esp for me as I have two part-time jobs including my internship and full-time school work. Having the work-life balance is critical. I use tools like google calendar it helps me organize my tasks and meetings. I find the inbuilt checklist feature in google calendar very helpful. I also have solid time slots…[Read more]

Working at SAP has gave me a good exposure to not just technical side of my role but also business side. There are many tasks that I am in charge of that require people skills and good communication skills. One of the big challenges is getting information for my role from higher ups. I work with a lot of documents at the same time and I realized…[Read more]

One of the few things that I faced difficulty at first was understanding the company lingo. Use of acronyms and company lingo is a big part of SAP's culture. The company's name itself is an Acronym. The company's lingo is called "SAPanese" by its employese and it is very critical to know in order to communicate well. SAP has a very helpful web…[Read more]

Hello everyone!
I am currently working at SAP American Head Quarters in New town Square, PA. My position title is Go for Growth Manager for the Financial, Banking and Insurance Market Unit in the East. Few of the tasks that I am in charge of include, Filtering, analyzing and cleaning data sets and making reports by creating charts using tools…[Read more]

Hey! Thanks for Visiting my Portfolio! Its good to know that there is more people with similar interests! Thank you for your good wishes. I wish you good luck as well.