What if your credit score impacted your social life?
That's the question the Chinese government is wrestling with its new "Social Credit System". In June of 2014, the State Council of China released a new document titled "Planning Outline for the Construction of a Social Credit System". In this document was a proposed system that would monitor and track its citizens to prove their "trustworthiness". The SCS uses an algorithm created by Alibaba to give users a rating between 350-950 points. However, the Chinese algorithm behind this system takes into account much more than the user's financial history. The system will track five different factors: credit history, fulfillment capacity, personal characteristics, behavior and preference, and interpersonal relationships. Credit history is very similar to the credit score we have here in America. Fulfillment capacity looks at a user's ability to fulfill contractual obligations. Personal characteristics is essentially personal information, including phone number and address. Behavior and preference looks at your consumer purchases and attempts to correlate that with your daily activities. For example, if you buy a lot of diapers you would be classified as a parent. Interpersonal relationships is the last metric that is tracked and this looks at the scores of your friends and relatives. If a friend you are connected with does something that negatively affects their score, your score may also be impacted.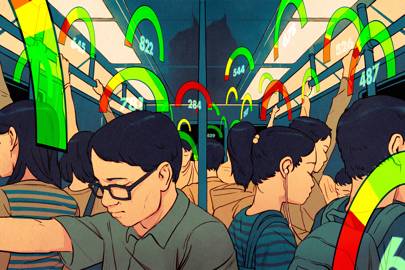 What steers citizens are the perks associated with high scores. Just like credit scores in America, the rating you receive from the SCS gives you access to get loans and mortgages. With a low enough score, you may be restricted to certain types of restaurants or modes of transportation. Currently participation is voluntary (although there are incentives for joining early), however by 2020 the government states that participation will be mandatory.
http://www.wired.co.uk/article/chinese-government-social-credit-score-privacy-invasion
2 Responses to What if your credit score impacted your social life?