Problem: An overwhelming amount of trash/litter in different regions of Philadelphia.
Solution: We will work on building a platform that synchronizes volunteering efforts and provide individuals and organizations with an opportunity to make an impact on their city, through finding out what areas need the most help (we will focus on unlittering). We will crowdsource data by having individuals use their smartphones to geotag areas they think need the most work. Organizations/ individuals looking to do community service can go on our website or app and check a heat map that shows where help is most needed. We will build into the idea a social focus on the homeless population and how we can work with shelters to integrate them back into society through community service.
Project Information
Group Name: Dream Big Productions
Project Name: KickTheBucket
Project Summary
Do you have a bucket list with dreams that you feel will be impossible to accomplish? Do you have a certain activity in mind that no one else is willing to try? Well we have the app for you! KickTheBucket will assist you in expressing your bucket list and connecting you with like-minded dreamers. This app will allow you to accomplish your bucket list while reducing costs by sharing the activity with a bucket buddy.
Many people go through life with a special list of activities they want to accomplish. Our project is being created to help customers achieve their lifetime goals. We want users in close proximity to find each other and help achieve these goals together. This application will map out how to accomplish each goal by showing them either activities in the area or the best route to get there. Users can also connect with each other to give advice on activities they have already achieved.
Project Contacts:
Angela Gilson – tud47710@temple.edu
Andre Messa – tue87490@temple.edu
Anne Buckley – tud15347@temple.edu
Matthew Ortiz – tuc43841@temple.edu
James Brunetto – tuc53089@temple.edu
Idea:
Our idea solves the problem for any automotive driver that requires minor automotive assistance on the road. It would be an on demand app that would allow any driver to request a jumpstart for their car, a tire change, or even a tow. These three services are minor jobs that can be legally done outside a mechanic shop. Mechanic shops or towing companies can sign up to be at the other end of the service, but they must adhere to our prices and policies ensuring the customer is fairly and equally charged. Our app would charge 5% as a middle man for providing the platform where the services are being transacted.
Risks:
– Towing companies need a license
– Companies may not want to adhere to our prices
– Customers may want to dispute charges with they credit card company, but may subsequently be disputing it with us.
Team: 
Brett Leftwich – tud09555@temple.edu
Jess Cracchiolo- tuc38333@temple.edu
Daniel Vessal – tud07919@temple.edu
Courtney Wise – tuc52653@temple.edu
Melissa Augilar- Ramirez – tue53332@temple.edu
Hello Professor,
Below is the Project Proposal for Topflight Solutions:
Idea: Website/app for doctor's notes
The problem to be addressed is companies requiring sick notes for when employees call out sick. Sick employees result in both wasted time for the company and increased healthcare costs.
The solution is to create a website/app which assists in identifying sick trends within the company and how to address those trends. When a sick employee goes to the doctor, the doctor can send the sick note directly to the employer via the app. On the employer's end will be a HR section for the app in which they can keep track of sick employees. This can help HR identify which departments are at risk for certain illnesses (i.e. Truckers are more susceptible to the flu). HR can then take measures to ensure that truckers get flu shots. It can also be used to identify sick trends among specific employees. For example, if a specific employee is susceptible to sinus infections in the winter, then the employer/app will send our reminders to the employee that he/she tends to have that illness during the winter, how to prevent getting sick, and how to prevent others from catching his/her illness.
The app can also be used to track certain sick trends in areas, rather than just specific companies. This can be used to help those areas (townships, cities, etc.) get a better understanding of the trends and how to combat the illnesses in the area.
Possible issues with this idea would be compliance with HIPPA laws, ensuring the validity of the sick notes sent to employers, and cyber security.
Project Contacts:
Blake Ford: tud16345@temple.edu
Thomas Huang: tuc52467@temple.edu
John Illuminati: tud03055@temple.edu
Travis Spiecker: tue48173@temple.edu
Jesse Worek: tud09449@temple.edu
Hello Professor Hohne,
Here is the Project Proposal for Prestige Worldwide. Please let us know if you need anything else.
Thank you!
Project Information
Name of the Organization: Prestige Worldwide
Project Title: Bill Scheduler
Project Overview: Our project is to create an app that will link to a user's credit/debit card or bank account and allow them to schedule when their bills are paid. Users can also split the bill with additional users such as roommates.
Project Timeframe: January 20th 2015 – May 4th 2015
Prepared by: Jacklin Altman, Dominic Lyate, Brittany Cougle, Arren Soroko, Amanda Rossetti
Project Contacts:
Jacklin Altman: tud07405@temple.edu , 267-240-4916
Dominic Lyate: tud09457@temple.edu, 717-799-1607
Brittany Cougle: tud08034@temple.edu , 267-221-2976
Arren Soroko: tue85820@temple.edu, 484-332-6226
Amanda Rossetti: tud07273@temple.edu
Project Summary
Our project aims to solve a major problem that many college students and long-term roommates face on a weekly or monthly basis–why does paying the utility, cable and other service bills always have to be the responsibility of one person? Our project solves this issue by allowing users to load bills from any service provider into an easy-to-use interface, send split requests to roommates, friends or colleagues, and pay the bill together, on-time, every time. The app is also great for anyone looking to keep track of and schedule bills–so nothing goes unpaid. Simply link the utility account (cable, electric, gas, etc.) to the app and receive automatic updates and reminders of when bills are approaching and when they're due. You can even choose to pay them automatically and receive a receipt notification directly on your smartphone.
Project Objectives
Application should integrate with phone calendar to allow user to schedule bill payments and be notified of upcoming payments due
Application should be able to scan receipts, glean relevant information, and integrate information into the bill-splitter
Application should be able to notify other users of split bills, how much is owed, when it is due
Application should interface directly with major billing companies (PECO, Comcast, etc.)
Users should be able to make payments directly through the app, and companies can charge late fees/overages through the app
Project Deliverables
Project Proposal

Contains summary of the project
Contact information for all involved
A background of the problem that our application is going to solve
Objectives for proposed app
List of deliverables

Weekly Progress Reports

States the work performed to date
States what still is in the works

List of Stakeholders

List of people who are directly affected by the project

Budget

States how much money will be allocated for the project

Work Breakdown Structure

An incremental decomposition of the project into phases, deliverables and work packages

Risk Management Plan

Foresees risks, estimate impacts, and define responses to issues

Communications Plan

Describes communication channels between stakeholders involved in project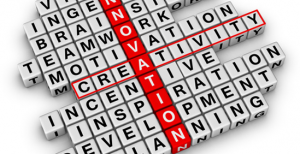 In class we talked about being innovative versus being creative. An article I read cites Shawn Hunter, author of "Out Think: How Innovative Leaders Drive Exceptional Outcomes," who discerns the two as follows:
"Creativity is the capability or act of conceiving something original or unusual while innovation is the implementation or creation of something new that has realized value for others."
The article goes on to discuss how creativity does not necessarily mean innovation, though it can lead to it. In a brainstorming session where ideas are flying around, that's creativity. It isn't until some value-driving idea is actually implemented that innovation sets in.
Shawn Hunter also chastises businesses for trying to create creativity on demand, by forcing employees into brainstorming sessions instead of focusing on building innovative processes and products. He claims that innovation doesn't have to be the next big thing, it can simply be a tweak to a current process that makes the business operate better. He also states that it's crucial that a business and its entire culture do everything possible to foster innovation in the workplace. The article cites the creation of the Starbucks Frappuccino as an example of innovation. Originally, the idea was rejected by company leaders. It wasn't until the product was quietly made and sold to customers that it became a hit and was officially introduced into the product line.
Do you think that innovation and creativity necessarily need to go hand in hand? Can one exist without the other? Can one be successful without the other? In your experiences in the workplace, does management tend to focus more on innovation or creativity?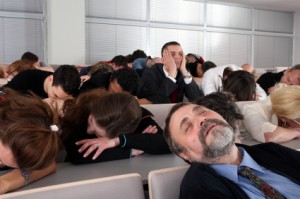 According to Forbes.com, the six ways to avoid "Death By PowerPoint" are:
Mix up your media
Send content ahead of time
Intersperse content with discussion, group exercises, and reflection time
Give handouts
Use eye catching software
Use props
These six steps are crucial for delivering a successful PowerPoint presentation because it addresses all styles of learning and promotes audience engagement. Most people retain information better when they are actively engaged rather than just listening to someone relay information. The two items that never cross my mind when it comes to delivering PowerPoint presentations are send content ahead of time and giving handouts. From the article, I learned that it is important to send content ahead of time because it allows people to come prepared to discuss your content and ask questions rather than listen to your presentation. I also learned that handouts are important because people love knowing they don't have to take full notes and can simple listen. Do you think sending content ahead of time makes your PowerPoint presentation pointless or enhances it? Do handouts lead to information overload?
http://www.forbes.com/sites/work-in-progress/2014/11/14/six-ways-to-avoid-death-by-powerpoint/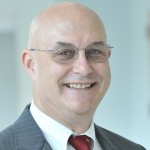 Welcome to MIS 4596 Section 3! We will use this site on a regular basis for all class activities including announcements and discussion. To get started all students should do the following before the first class:
Please 'subscribe' to this site (see below) so you will automatically receive updates.
If you have registered for this class (as of 1/5/15), then you will be listed on the right hand side. Add an avatar (login, click on My Account, Profile) and an e-portfolio if it is missing.
Join the MIS 4596 group. I will use this group to send out course updates.
Please feel free to reply to this post and include ideas or expectations about the course.
For all comments on this site, students should login first (see the convenient link on the right), do not use the option to enter your name and email.
Subscribe to class via Email