PwC Case Competition
1st Place
Spring 2018
In this case competition, we assume the roles of consultants for Country's Best, a convenience store chain in the Midwest that is looking to expand into the Southwest by 2025. To espouse the organization's expansion plan, we provide a comprehensive analysis of the significant cost-savings and profit-earning opportunities. After breaking down the pros and cons of three candidate solutions – Zero, Minimal, and Full Automation – in terms of three categories summarizing Country's Best company values – Convenience, Community, and Cost-Savings – we propose utilizing Full Automation for its superior financial consequences and easy integration.
In addition, we also propose other alternatives such as store renovation and cash-only policy for purchase under $5. We illustrate our strategies impact on convenience, community, and cost-savings with a detailed investigation, depicting the robustness of our solution as well as the long-term consequences.
Our team won the competition!
---

Target Case Competition
2nd Place
Spring 2018
In Spring 2018, I participated in Target Case competition, which is an annual business case competition hosted by Target & CSPD. My team comprised of two MIS students, one Actuarial Science student, and one Supply Chain Management student. We had to write an executive report outlining our recommendations and proposals. The top 5 finalists would advance to the final round, where each team would have to present their cases to judges from Target.
This year's topic is on the role of gender toys in merchandising, specifically, how should Target leverage on digitally connected families while avoiding unintended gender bias. Our challenge is to research about the gender stereotypes associated with toys and provide ideas for how we would approach this challenge as a Senior Buyer on a category within Kids. The exciting part of this case is how we could leverage on Target's digital platforms to improve the experience and in-store engagement of digitally connected families, while maintaining its competitiveness against online retailers like Amazon, so this is where the application of MIS comes in handy as we explored options such as VR/AR, integrating app with in-store experience, etc.
We advanced to the final round and our team placed second overall!
---
AIS National Competition:
The Computational Society Case Study Challenge
3rd Place
Spring 2018
In Spring 2018, I competed in the Computational Society's Case Study Challenge on the impact of computational technology on well-being, specifically in the arena of sports and entertainment. Our 15-page case study report proposes that as computational technology continues to advance at an accelerated rate, both fit and previously unfit individuals will be able to eventually shift their fitness landscape, thus advancing their holistic well-being. We researched and analyzed the benefits of three types of computational technology – namely virtual reality, augmented reality, and wearable technology – and how they are transforming the way individuals play and entertain.
My team was among the five teams in our track that advanced to the final round, which was held at the University of Texas at Dallas during the annual AIS Student Chapter Leadership Conference. We presented in front of a panel of industry professionals and subject matter experts, including the founder of the Computational Society himself. We conclude that by utilizing computational technology, we are well on our way in "Making Athletes Out of Gamers, and Gamers Out of Athletes."
Our team placed third overall!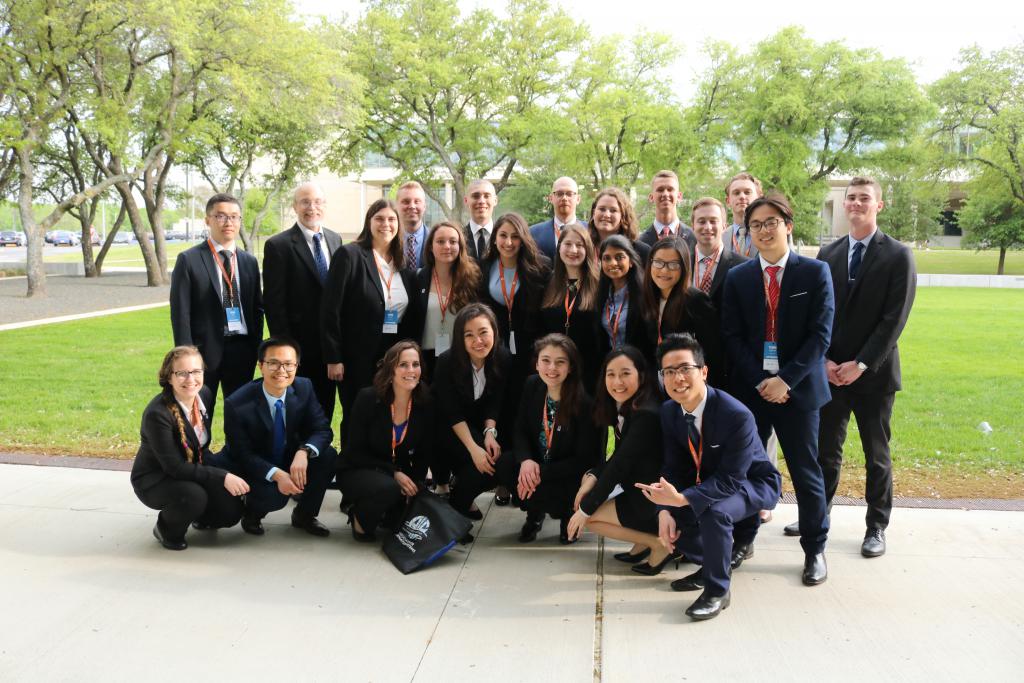 This year is a big win for Temple AIS as six teams from our school qualified to the final round and five teams placed in the final.
Go Owls!