The Bachelors Major in Management Information Systems (MIS) produces leaders who initiate, design, and apply technology to transform business functions and produce innovative products and services.
MIS graduates are sought by the top firms in the nation. The BBA in MIS is a STEM program that provides access to STEM scholarships, as well as MIS department scholarships.
The BBA in MIS prepares students for a digital centric economy in which large and growing IT centric firms provide infrastructure like services that smaller entrepreneurial firms re-imagine to create innovative and value added services for consumers and business.

MIS students will successfully compete in a world in which traditional large corporations continue to streamline their IT operations but grow by adding new technologically enhanced innovative capabilities.
Learn to:
Initiate and lead technology enabled change (e.g., act as a digital innovation change agent in a large firm)
Analyze and design innovative digital products and services (e.g., create the social media strategy for a new start-up)
Apply IT to automate and improve business processes (e.g., apply analytics to discover new insights)
Transform a business function with IT (e.g., mobile apps to reach new customers)
Analyze clients, specify needs, integrate applications, and manage projects (e.g., acquire a new customer relationship management system)
CURRICULUM
Required courses
Data-Centric Application Development (MIS 2402)
Develop data-centric applications
Data Analytics (MIS 2502)
Analyze and present insights from business data
Enterprise IT Architecture (MIS 3406)
Understand enterprise IT architecture, digital platforms, and ecosystems
Digital Solutions Studio (MIS 3506)
Create and analyze digital products and services
Application Integration and Evaluation (MIS 3502)
Build web and cloud centric applications.
Lead Global Digital Projects (MIS 3535)
Lead technology-enabled transformation
Information Systems Integration (MIS 4596)
Apply and evaluate IT innovation and capabilities. Teams work on a entrepreneurial project mentored by senior executives.

Selected electives
Internet Enabled Supply Chains (MIS 3537)
Change supply chains using the Internet.
Applied Predictive Analytics (MIS 3505)
Derive patterns and insight from large data sets.
Defending Against Cyber Crime (MIS 3507)
Learn how to evaluate cyber-security through case studies
Strategic Management of Information Technology (MIS 3534)
Case study analysis of managing IT resources
Social Media Innovation (MIS 3538)
Create digital business models that apply Web 2.0 and social media.
Special Topics (MIS 3580)
New emerging topics (previous topics: ERP, mobile development, Cyber-security)
Information Systems Innovation (MIS 3536)
Create digital business opportunities.
Co-operative Experience in MIS (MIS 3581)
Gain course credit for internships. Learn more…

PROFESSIONAL ACHIEVEMENT PROGRAM
MIS majors benefit from an innovative patent pending PRO – professional achievement program:
Earn required points for professional development activities and for applying learning to practice (e.g., internships, student leadership)
Receive recognition for professional achievement on leaderboards, badges, professional achievement wire, and e-portfolios. 'Cash-in' reward points at the MIS Points Store.
Showcase your educational and professional achievements at the IT Career Fair.
CAREERS AND PLACEMENT
MIS BBA majors get placed in the top firms in the region and nationally and achieved 100% placement since May 2012. Learn about careers in IS and participate in the IT Career Fair which provides exclusive one-stop placement and internship opportunities for MIS students. The Temple University led ISJobIndex.com project provides national level data on jobs in the IS field:
Bachelor MIS students average salary is $57,817 nationally. Salaries for IS graduates are about 17% higher than typical business majors.
86% of IS graduates are satisfied with their offer, and 75% are confident that their job is a good fit.
The top IS jobs are: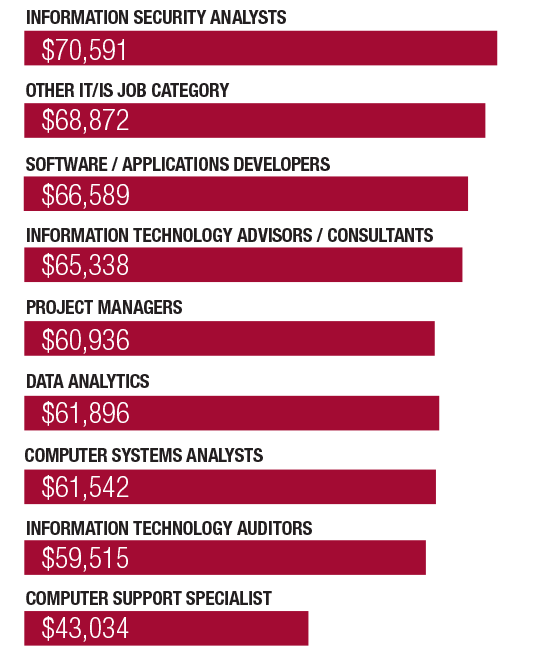 Source: IS Job Index, http://isjobindex.com
THE MIS EDGE
MORE INFORMATION
NEXT STEPS
Take a look at our internationally renowned faculty
Read Why Temple MIS?
Contact Temple AIS on Facebook
If you are a high performing motivated student – we want to recruit you – please contact Joseph Allegra at jallegra@temple.edu