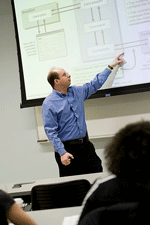 The nationally ranked Information Technology Management (ITM) concentration of the Fox MBA prepares savvy business leaders that can craft innovative technology solutions for today's competitive global environment. The concentration was ranked top 15 in the nation by US News and World Reports for 2017.
Fox MBA ITM students are agents of organizational change that transform business through digital business strategy. They learn the analytical, creative, and business management skills required for an exciting, demanding, and lucrative role as a business leader who can harness the power of technology. MBA ITM students can:
Develop and apply digital business models to transform organizations and industries
Apply the power of data analytics to assess organizational performance and understand industries
Champion technology initiatives to innovate and improve business operations
Infuse core business competencies with new technology advances
Leverage the strategic value of new paradigms such as Web 2.0 and social media 
The program is based on feedback from Institute for Business and Information Technology board members, local employers, and alumni. Features of the program include:
Keep your knowledge current through a rotating selection of timely elective topics including design thinking and social media
Connect with industry through the Institute for Business and Information Technology, and attend events such as the annual Fox IT Awards.
Build your network through interacting with top executives from the Philadelphia region, such as Campbell Soup, Merck, AstraZeneca, and Lockheed Martin, inside and outside of the classroom
Personalized attention from the faculty, including career mentoring and advising.
CURRICULUM
The flexible Fox MBA ITM curriculum consists of three courses that can be taken in any order and with no prerequisites. The courses are also open to all Fox MBA students and you are encouraged to mix and match ITM courses with other Fox MBA concentration courses.
MIS 5301 / 5401: Data Analytics for Management (Fox MBA core course)


Organizations rely on data to make effective decisions, and managers must create a data-driven mindset that uses analytics to drive strategy. In this course, students learn how data is used to support organizational decision-making and solve business problems. Students learn the tools and techniques organizations use to assess, prepare, and analyze data. Students gain hands-on experience through case studies and exercises that require the use of a wide range of data and analytic skills, including statistics.

  
MIS 5302 / 5402: Managing Technology & Systems (Fox MBA core course)


Organizations that strategically select, manage, and deploy digital business models prosper in the global economy. Students will use systems and business process thinking to create and analyze strategies for technology-enabled organizational and industry transformation. They will map systems and processes and propose innovative solutions for new and existing business initiatives to leverage enterprise, consumer, and social technologies.

MIS 5303 / 5403: Design Inquiry and Research (Fox MBA core course)


The course introduces the concept of Business Design, a holistic approach to management that combines the analytical strengths of traditional business education with the qualitative research, idea generation and the ability to synthesize information from design education. It is a balance of quantitative and qualitative thinking. Design Inquiry is a question-based framework to structure this problem solving process to create innovative solutions that are user-centered, socially, culturally and functionally meaningful and economically sustainable.
Choose any three of the following or any other graduate-level MIS course:
MIS 5101: Business Intelligence


Data is a core building block of modern organizations; transforming data into information and knowledge enables firms to compete effectively. In this course, students learn best practices for acquiring, assessing, and analyzing data to solve business problems. Students also learn the technologies that comprise an organization's information infrastructure. Students gain hands-on experience with these concepts through case studies and exercises.

MIS 5102: Process Improvement and Innovation


An information system is only valuable to an organization when it enables and supports a useful business process. Students learn to assess, design, and analyze processes that foster innovation. Core concepts include designing effective solutions, identifying metrics for assessment, and communicating plans to management. Students apply these skills through analysis of business problems for actual firms.

MIS 5108: Digital Business Strategy


Digital business strategy is a critical function in organizations. Future leaders must learn how to exploit the power of digital technology. In this course, students formulate the business case for new technology initiatives, evaluate success, and develop plans for technology-enabled organizational change. Through case study analyses and  engagement with industry experts, students develop the strategic thinking required of leaders of IT enabled change.

MIS 5112: Business Design and Innovation


Digital business opportunities are no longer limited to the technology itself; they also include the experiences and ecosystems around them. To succeed in this new economy, today's leaders require a broad set of skills that incorporate creative thinking and innovation. Students will learn the tools and methods of Business Design to address real-world business problems. They will apply design inquiry techniques to craft original solutions to a series of practical scenarios.
CAREERS
The Fox IT Career Fair includes top employers and is only open to MIS/ITM students.
Technology management consultant
Technology strategist and manager
Change agent
Business analyst
Data analyst
IT entrepreneur
Project manager
RELEVANT LINKS