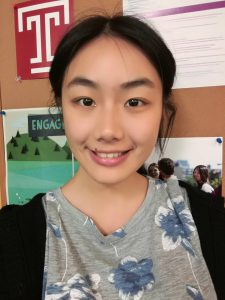 Major: Management Information System
 Minor: Entrepreneurship
 Graduation: Spring 2018
 My name is Yu Zhou. I am a senior majoring in Management Information System with a minor in Entrepreneurship at the Fox School of Business in Temple university. I am a transfer student from Guangzhou University, China where I obtained my Business Administration undergraduate degree in 2016.
Majoring in MIS has satisfied my career expectation to use technology methods to solve business problems. I am interested to get into IT consulting and business analytics positions after graduation. Last summer, I had an internship at Walmart's headquarter in Shenzhen, China where I worked as a project management intern. This position expanded my horizon in its seasonal sales project and developed my data analysis skills, communication skills and time management skills. I am pursuing more opportunities to strengthen my practices in different IT positions before graduation.
Thank you for your visiting my e-portfolio. Please feel free to have a look at my portfolio and could reach out to me via email at  tuf77274@temple.edu.