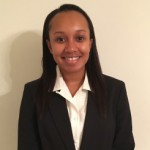 Amy Njuguna
BBA in MIS, Fox School of Business, Temple University
Major: Management Information Systems
Minor: Finance
Email: amynjuguna1@gmail.com
---
Thanks for looking at my E-Portfolio!
My name is Amy Njuguna. I am currently a junior in the Fox School of Business at Temple University. I am originally from Reading, Pennsylvania and I attended Wilson High School. I am majoring in Management Information Systems (MIS) and minoring in Finance.
In addition to majoring in MIS and looking to pursue a career in that field, I am involved in the Association for Information Systems student chapter here at Temple University. Information Technology is growing at a rapid speed and I am very passionate about using technology to apply it to business problems. My areas of interest include Information Technology, business analytics, legal studies, and finance.
I encourage you to look around my e-portfolio. Please feel free to email me with any questions, opportunities, or advice. Your time is greatly appreciated.