Soccer
Since I was 4 years old, I have played soccer. Throughout elementary school, middle school, and high school, I trained and participated on school teams and club teams. When I first began playing, I was interested in playing defense. As I got older, I began playing more offensive positions such as midfield and forward. Today, on the intramural team I am on, I am a goalie! I can truly say that not only playing the game, but the friendships and experiences I have gained from playing soccer have been priceless! In addition, I have followed professional soccer leagues such as the MLS and the Premier League in England. My favorite teams are the Los Angeles Galaxy, New York Red Bulls, and Philadelphia Union in the MLS and Tottenham Hotspur F.C. in the Premier League.
Philadelphia Phillies
I have lived around Philadelphia my entire life. As a child, I was always interested in sports. When I was merely 3 years old, my dad took my to my first Phillies game! every since then, I have been an avid fan of the baseball club.  Although the Phillies struggled last season, I believe this season they will, once again, dominate the National League East and make it to the post-season.
Travel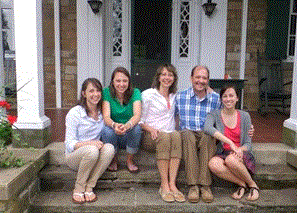 Traveling has always been a great way for my family to bond and spend time together. As I grew up, my parents, sisters, and I have experienced many of the United States' treasures such as Williamsburg, Virginia, Alcatraz in San Francisco, The Grand Canyon, and Mount Washington. Last summer, we went on a family trip to Ricket's Glen State Park which is about an hour from Wilkes-Barre, Pennsylvania. We have visited and explored almost half of the United States, but we are now beginning to travel internationally. In 2011, to celebrate my high school graduation, my parents took my sisters and me on a cruise to the Bahamas. This coming summer, we are going to Toronto, Canada!