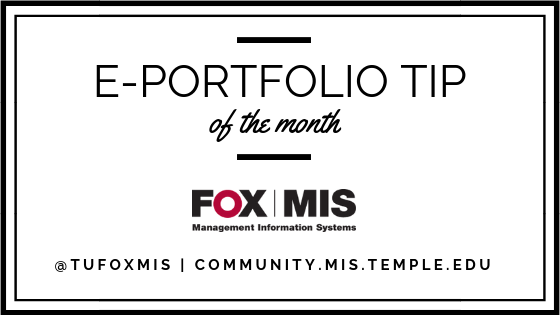 E-PORTFOLIO TIP OF THE MONTH:
Uploading PDFs
If you are looking for sample scenarios of ways to earn points, get inspired and create a plan by reading about Josie Smith, a new freshman, or Mary Jones, a new transfer student!
As for our e-portfolio tip this month, we will learn how to post PDFs on your site.
Step 1: In your new post/page, click "Insert"  → "Add Media".
Alternatively, you can click on "Add Media" above the menu bar.
Step 2: "Upload Files" → "Select Files". Select your PDF to upload.
You can also upload multiple files at once.
Step 3: Select the file you want to post.
You can edit the "Title" to change the text that will appear in the post/page.
If you prefer to do it later, click "Insert into post."
Step 4: Your PDF will be inserted as a hyperlink with your file name as the text.
If you want to change the text, click on the link, and the pencil icon.
Step 5: Click on the settings icon.
Change the "Link Text" to the text that you want to be displayed on the post/page.
If you want the file to pop up in a new tab when a user clicks on the link, check "Open link in a new tab" checkbox.
When you're done making changes, click "Update"
Step 6: Make sure the text has been changed.
Save your changes and test out your link to make sure that it's working.
It's always a good practice to test out your link!
Keep an eye on your inbox for the next tip!
If you have any thoughts or suggestions on tips that you'd like to see in the future, please let us know here.