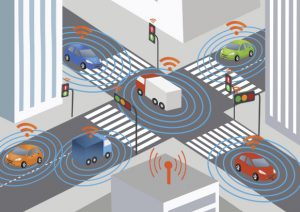 Audi has just added a few more cities to its newest technology, vehicle-to-infrastructure. V2I wirelessly sends traffic light information to your car using LTE and can provide data like, how much longer a red light will stay red, or if you can make your next approaching green light. In the instance where you may not make the green, Audi will tell you to coast to the intersection to save gas or speed up to make the light (speeding up would be the norm I assume). 
Audi's advance system will display timers on the dashboard and give tips on if you have enough time to queue up a song you would like to play. Of course, all of these features will come at a premium. You will receive the first six months free, but afterwards the pricing starts at $199 for six months, or $599 for 18 months if you wish to keep the feature. 
Right now, only 4,700 intersections are supported, or 13 U.S. cities, with Audi slowly getting more partnerships as time goes on. Unfortunately, Philadelphia is not one of the supported cities and the closest city being Washington, D.C. Still, this is a wonderful advancement in automotive technology that can save time, gas, and patience. 
source: https://www.cnet.com/roadshow/news/audi-traffic-light-information-expansion/