Interests
Professional interests:
I have always wanted to study Information Technology and Business Management, however I didn't feel comfortable double-majoring. So, I chose to major in Management Information Systems because of its combination of the business and technology world. The nature of my studies will prepare me for working for companies where I can analyze data and manage various projects. I've always been fascinated with technology growing up and continue to grow curiosity for the ways that data gets organized and implemented.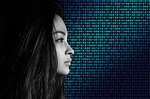 Personal interests:
Music has always been a big part of my life and is one of my passions. I love to sing and learn to play various instruments. I also love reading and writing in my journal. These are my ways of exploring my creativity and providing an outlet to maintain composure after a long day.