Welcome to my site.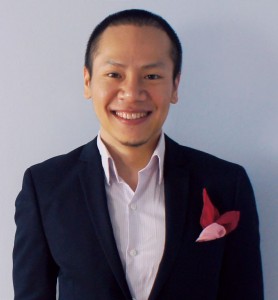 Hello and thank you for visiting my site!!
My name is Thephong Ngoc Hophan. I am an alumnus of Fox School of Business, Temple University. I obtained a BBA degree in Entrepreneurship Summer 2014.
As an international student who came to Fox School of Business from Tokyo-Japan in 2012, I enjoyed improving my third language, English, and enhanced my expertise in entrepreneurship. I also expanded my understanding of innovation and strengthened my entrepreneurial skill-sets such as discovering new products and services, improving value propositions, and finding new business opportunities by utilizing knowledge of marketing, international business, risk management, finance, accounting, human resources, and entrepreneurship.
As a trilingual professional who can speak, read, and write in English, in Japanese, and in Vietnamese, I have made myself becoming a person who can facilitate global businesses. I enjoy helping American, Japanese and Vietnamese professionals to trade and to have international businesses, and be constantly available for supporting individuals to find new business opportunities in overseas or helping them to boost their international businesses experiences in the unfamiliar markets. I always make my best efforts to bring further prosperities to my clients by using all of my skills and my understanding in language, in entrepreneurship and in familiarity with local markets to share my creative ideas to shape up profitable business strategies and to consult the individuals to make the right decisions to better them off.
As a normal person, I enjoy three things such as learning foreign languages to enhance my international experience, expanding social networks to increase my cultural understanding, and increasing my business understandings to expand my productivities. I continually make friends with people who have international backgrounds to improve my international communication skills and to strengthen my interpersonal skill-sets. I also read variety of business articles and non-fiction books to increase my understanding of  people, trend and business. Repeating these activities daily, I have succeeded in improving my critical skills and bettering my creativities; these skill-sets allow me to derive further success that provide me more opportunities to engage with fascinating projects.
In current, I have three principles that enhance my business life and my personal life. First, I am willing to work with business professionals, who have entrepreneurial mindsets, to create more business opportunities for someone in need. Second, I am pursuing an MBA degree in my entrepreneurship, my expertise, to make myself to become more productive. Last, I am trying to make more time for myself to enjoy my life with my fantastic family members, my dearest friends, and my wonderful lover.
Hereby, I would like to thank you for spending the time exploring my site; and, I sincerely appreciate your interest in me. If you are looking for opportunities to expand your business or wanting to have business with me for advantages, please feel free to contact me 24/7. I hope you have a wonderful time exploring my site and wish you the best always!
Thank you.
〜※〜For Japanese readers|日本語の閲覧者様へ〜※〜
Thephong (テェフォン)のサイトへようこそ
このたびは私のサイトをご閲覧いただき、誠にありがとうございます。
上記の英文にてご存知の通り、私は2014年に米国Temple University (テンプル大学)のFox School of Business を卒業し、これまでにビジネススクールの一生徒として「起業」に関する勉学に精を尽くして来ました。私の得意とする専門分野は新たなビジネスチャンスの発掘に合わせ、既存ビジネスの飛躍的戦略選定、イノベーション、そして実行といった起業、会社運営、経営促進に携わることです。これに加え、学業にて培ってきました会計学、マーケティンク、ファイナンス、リスクマネージメントや国際ビジネス理解などの知識を生かして、一起業家としてさらなる成功を追い求めています。
『人種のるつぼ』という称呼を持つアメリカへ渡ってから四年、アメリカならではの豊かなマルチナショナリズムやマルチカルチャーに直接触れることが出来る生活の中で、私はずっと国際人になる夢を持ち続けてきました。 私の日々の目標は、「世界の架け橋」になることであり、いわばアメリカをはじめ、日本やベトナム、そして東南アジア諸国(発展する国々)のビジネスリレーションシップの活気づけをさせるための「追い風」になることです。別の言い方をするならば、一起業家としてより多くの国際的なビジネスを築き上げ、一人でも多くの人が世界をまたいて職を持つことができる場を設けることが出来る人材になることを目指しています。この夢を現実化させるために、私は日々ビジネスの研究や自分磨きに多くの時間を費やし、常に新しい刺激や発見、加えて新たなる挑戦を楽しみながら一歩ずつ前へ突き進み続けています。また、一個人としての思いとしましては、私が手がける事業の一つ一つが確実に社会貢献するよう、いつでも徹底的な高品質なものや最適なサービスを提供し続る努力をしていくことです。
現在、私は素朴な夢を三つ持っています。
その一、素晴らしい人々に出会い、仕事をして行くこと。
その二、MBAを取得して、さらに自分の専門分野を高めること。
その三、プライベートな時間を多く作って、日々私を心から応援している家族、友達、そして恋人と楽しく過ごすことです。
繰り返しとなりますが、このたびは貴重なお時間を割いて私のサイトへお越しいただき、誠に心より感謝いたします。加えて、このサイトのご閲覧をされた際に、私とのビジネスにご興味もたれましたならば、どうぞお気軽にご連絡ください。
今後も何卒どうぞよろしくお願い申し上げます。
敬具
〜※〜For Vietnamese readers | Chào các bạn đọc tiếng Việt 〜※〜
Cám ơn các anh chị đã đến với trang web của Thephong.
Sau những dòng chữ chào đón các anh chị vào xem trang web cá nhân của tôi bằng Anh ngữ và Nhật ngữ ở phần trên, tôi xin tự giới thiệu về bản thân của mình với những dòng Việt ngữ tiếp theo để dành lại sự tiện lợi riêng cho anh chị đã đến với trang web này. Tôi mong rằng các anh chị sẽ có được một giây phút tìm thông tin về Thephong Ngoc Hophan thật có tác dụng và có nhiều hiệu quả.
Theo như anh chị đã được biết qua những đặc điểm cá nhân của tôi được nêu trên, tôi tên là Hophan Ngoc Thephong đến từ Tokyo-Nhật Bản, cựu sinh viên Fox School of Business, Temple University, Philadelphia, PA, U.S.A.. Chuyên ngành của tôi là Business – Entrepreneurship (Tạo Dựng Doanh Nghiệp, Sơ Lược Quản Trị Chiến Lược Kinh Doanh Trong Quá Trình Phát Triển Doanh Nghiệp).
Vào thời gian sinh hoạt tại US bốn năm vừa qua, do sự học tập nói riêng và do việc thu hoạch kiến thức chuyên ngành nói chung, tôi đã rút được nhiều kinh nghiệm và mỡ mang được nhiều kiến thức có tác dụng thúc đẩy thương mại kinh doanh trong mọi doanh nghiệp. Tôi đã tăng cường khả năng tạo dựng cơ hội cho mỗi doanh nghiệp hướng về thành công và mang lại sự phồn thịnh xa hơn cho mọi cá nhân trong phương trình kế hoạch chọn lựa lối riêng cho mỗi cơ sở thương mại.
Trong sự cố gắng cho riêng mình không ngừng nghỉ, tôi càng yêu thích chuyên ngành của mình nhiều hơn với lý do đó là: a) tôi sẽ có thể có thêm năng lực và nghị lực thúc đẩy từng doanh nghiệp hướng về sự phát triển kinh doanh và đồng thời có thể nối nhịp cầu cho các doanh nghiệp hoặc các doanh nhân thân quen trong ngành bước vào trung tâm vòng phát triển toàn cầu hoá của thị trường thương mại tiến triển đa dạng; b) tôi có thể giúp đở cho các Công Ty của USA, Nhật Bản và những doanh nghiệp đang phát triển mạnh mẽ tại Việt Nam hoặc tại các nước trong Đông Nam Á cùng nhau nối chặt mối quan hệ thương mại vững chắc để mỗi công sở ấy có thể đạt được sự phát triển phồn thịnh xa vời; và c) tôi có thể thành người có dồi dào lý trí, có tinh thần mạnh mẽ, và có nhiều tình cảm đặc biệt nhất dành cho những người tôi yêu mến, ví dụ như người thân, bạn bè và người tôi yêu quý nhất về mặt tình cảm cá nhân trong sinh hoạt hằng ngày.
Hiện giờ tôi có mang thêm ba ước mơ đó là: 1) tôi sẽ gặp được nhiều người xuất sắc trong ngành để làm việc chuyên nghiệp, trao đổi sáng kiến, và gia tăng kiến thức; 2) tôi sẽ tiếp tục đeo đuỗi chuyên ngành của mình để có thêm bằng MBA của US; và 3) tôi sẽ được có nhiều thời gian riêng tư để vui cười với những người thân quen đã ủng hộ tôi thành công tận tình trong mọi lúc.
Tôi hy vọng rằng trang web này sẽ mang lại cho anh chị nhiều thành công trong quá trình tham khảo về đặc điểm của riêng tôi và trên hết đó là tôi chân thành cảm ơn các anh chị đã dành thời gian quý báu đến với trang web cá nhân này.
Và đây, tôi xin chúc các anh chị sẽ đạt được nhiều thành công mọi mặt xa vời hơn và phồn thịnh hơn trong hiện tại và trong tương lai gần nhất.
Xin cám ơn.
2 Responses to Welcome to my site.