Family, Career, and Community Leaders of America Experience
President, Pennsbury High School Chapter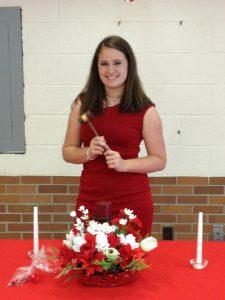 Being a member of the Family, Career, and Community Leaders of America has been my most life changing experience thus far. I credit this organization with helping me grow as a woman and leader, defining what I want my future to look like. When I attended my first meeting of my high school's chapter as a freshman, I did not know anything about this organization. By the end of that same meeting, I knew this was the place for me, and committed myself to being involved for the entirety of my high school career.
At the end of my freshman year, I was appointed to be the Fundraising Chairperson for the following school year. This required me to lead events and fundraisers to fund our chapter activities. In this position, I learned about what it takes to fund an organization and that this is not always an easy task. We were struggling with debt at the beginning of our school year, and I, with the help of my team, planned events such as a Breakfast with Santa and fundraisers such as the daily sale of cookies and pretzels in our school. These events and others pulled us out of our debt and funded our trip to the State Leadership Conference that year.
After my year as Fundraising Chair, I decided to run for President of our chapter for my Junior year. I was elected to this position by my fellow members as the first Junior president in our chapter history. As President, I supervised our chapter officers and members in the task of furthering the mission of our organization; to promote personal growth and leadership development through Family and Consumer Sciences education. We began planning a bigger variety of activities, such a as Ford: Drive for Your School test drive event, bingo night, flea market, and a school-wide Penny Wars to benefit No Kid Hungry. I was elected to a second term as President for my senior year and further pursued the same goals.
During all four years of my membership, I attended the Pennsylvania State Leadership Conference. At these conferences, chapters from across the state came together to share ideas and further our leadership development. I also participated in the STAR Event competitions at the conferences. In my first year, I competed in the Entrepreneurship category. In this competition, I created my own hypothetical business and business plan. For my sophomore and junior years, I competed in the Fashion Design competition. These competitions require participants to create a a custom fashion label, six piece collection of designs, and execute one of these designs with a custom pattern. You can see my design from the 2014 competition here. All three of these years I was selected to represent Pennsylvania at the competition at the National Leadership Conference. At these competitions, all of my projects recieved gold medals. I am proud to say my Entrepreneurship project won first place nationally, and my 2013 Fashion Design project won second place nationally.