Phi Sigma Pi, National Honors Fraternity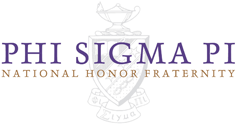 Dates Participated: Spring 2014 – Present
Phi Sigma Pi is a national honors gender-inclusive fraternity. Its values are defined by its tripod: fellowship, scholarship and leadership. These three values are reflected in our social, academic and philanthropic events. Some of the events I have attended include a Ronald McDonald House cooking night, adoption fashion show, horticultural film festival, and multiple sclerosis 5k. In addition to attending these events, I've interviewed with over 80 brothers and alumni, developing my professional network.
Residence Hall Association

Dates Participated: Fall 2013 – Spring 2014
Positions Held: 1300 Community Council Treasurer, Fall 2013 – Spring 2014
The Residence Hall Association is the umbrella organization that oversees on-campus housing life. As treasurer of my residence hall, I facilitated events for over 1,300 people and managed a budget of $4,600. In addition, I participated in the Residence Hall Association events, which included planning campus-wide activities and participating in community service events such as a city clean-up and local Christmas event for kids. I was selected to represent Temple University in CAACURH, the Central Atlantic Affiliate of College and University Residence Halls, where I learned leadership skills and helped Temple win its first two awards.