To view which MIS and CIS courses I have taken, click here.
I have worked on many MIS and CIS related projects while at Temple, but here are some of my favorites:
Website Designing:
You can access my website by clicking here!
While in Cyberspace & Society (CIS835), we created websites. These websites were required to include many different components. This project taught me how to use Adobe Dreamweaver. This is one of the first ever projects that I completed (and it was done before I knew how to code!), and it inspired me to become an MIS major. This website is very raw, and it shows where I started and it shows my potential for the future.
ERD Diagram Mapping:
While I took Data Analytics (MIS 2502), I learned how to create advanced Entity-Relationship Diagrams. These are process maps that allows the viewer to understand a story minimal words and an easy to follow and understand diagram. Through this project, I was able to learn how to visualize information, which could help me in the field of IT Audit.
Some example diagrams that I created for this class: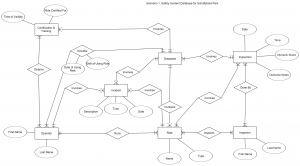 Temple University Data Analytics Challenge:
While taking Info Systems Organizations (MIS 2101), one of our assignments was to enter into the Temple Data Analytics Challenge. The goal of this case was to create an infographic from raw data and turn that into a visual representation, while suggesting solutions to an important corporate issue. This challenge showed me real world experience, and it showed me how to visualize and explain data in an eye-catching way. I entered this challenge in 2015 and 2016. I was a finalist in 2016.
Temple Data Analytics Challenge 2015:
Temple Data Analytics Challenge 2016:
temple-data-analytics-challenge-2016-infographic