Work Experience
Served as Marketing and Public Relations Fellow at The LEAF Project
June 2016-August 2016
For the past three summers, I have worked with the nonprofit The LEAF Project. The LEAF Project  is a youth employment program (ages 14-18) that strives to cultivate young leaders through farm work, culinary skills development, and public outreach. Wanting to learn a new skill, I first started working with LEAF as a youth intern. The next summer I was promoted to a Crew Leader, someone who guides and teaches the youth interns.
This past summer, I worked there in a completely new role, the Marketing and Public Relations Fellow. In this role, I was able to develop myself on a professional level. I transformed and re-designed LEAF's website, moving it from Word Press to Square Space. This project was especially enjoyable for me because I am very interested in website design and creation. In addition to my ongoing project of creating the website, I was also in charge of LEAF's social media presence (Facebook, Instagram) and took pictures and wrote blogs to effectively communicate LEAF's story  to the public. Other roles I was involved in were: interviewing local chefs and farmers for a grant-funded project, maintaining donor relations and retention, and leading the youth in weekly harvest/fulfilling restaurant produce orders.
I enjoyed working for LEAF because of the diverse work environment, the opportunity to be a mentor to others, and for the autonomy I was granted in my role.
Team Lead and Business Coordinator at Quy's Vietnamese
August 2013-August 2016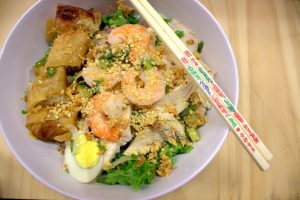 I have been working for Quy's Vietnamese since I was in high school. Quy's Vietnamese is an authentic Vietnamese Food Stand that runs inside the Carlisle Country Farmer's Market.  I started working there as a food service member and after one year, worked my way up to Team Lead. Two years ago, I was promoted to Business Coordinator. In this role, I helped to increase sales and customer reach by shooting high quality images and videos for the Facebook Page, by facilitating and designing company work shirts, and by creating a new business card and promotional coupons and incentives. While serving as the Business Coordinator, I continued to serve as Team Lead, which allowed me to measure business performance and allowed me to have face to face relations with the customers.
Working at Quy's Vietnamese taught me valuable skills in time management, customer service, and improving a business's presence.