Oslo, Norway will become the first city in the world to install wireless charging stations for taxis. City officials want to install these wireless chargers to increase the availability of electric taxis and decrease the city's pollution. Charging plates will be installed in the road to allow a taxi's battery to be charged wirelessly while in close proximity. Oslo is hoping that all taxis will be completely electric by 2023 and that by 2025 every new car built and imported into Norway will be electric. Other countries in the EU have similar goals to reduce pollution.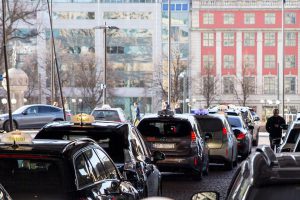 The main driving force behind installing the charging plates is the lack of charging stations in Oslo. It's difficult for taxis to stop picking up passengers and then try to find a station to plug into – it is wasted time and lost money. Charging plates will allow taxis to keep operating while charging. Oslo, Norway will easily adopt these charging plates because of the forward-thinking population and also because Norway already has the highest electric vehicle ownership in the world.
Do you think any US cities would install these charging plates for electric vehicles? 
Source: https://www.reuters.com/article/us-norway-electric-taxis/oslo-to-become-first-city-to-charge-electric-taxis-over-the-air-idUSKCN1R21ED