Although I enjoy going to school, I enjoy my time outside of it as well. I love being active and staying in shape whether it is going for a long run, working out at the gym, or playing sports. My favorite sports to play include football, basketball, volleyball, and tennis. I also enjoy watching sports as well. I love to watch football, soccer, and tennis. You can also find me cheering on the Temple Owls at their football and basketball games.
I started long distance running this past year and fell in love with the challenge of pushing myself mentally and physically to reach a goal. I ran the 2016 Broad Street Run, the 2016 Philadelphia Rock'n'Roll Half Marathon, and 2016 Goretex Philadelphia Marathon!
I also enjoy watching TV shows and movies. My favorite TV shows included House of Cards, Game of Thrones, Sherlock and Friends. Some of my favorite movies of all time include The Lord of the Rings, Forrest Gump, The Theory of Everything, and The Imitation Game.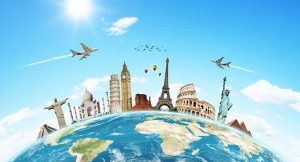 I also enjoy traveling. I have been to over 10 different countries and 20 states. However, my dream would be to go backpacking across Europe and visit countries such as France, Italy, and England. I love to immerse myself to different cultures and try new things. I plan on studying abroad in during my senior year in either Rome or Paris.