TEMPLE UNIVERSITY DIAMOND MARCHING BAND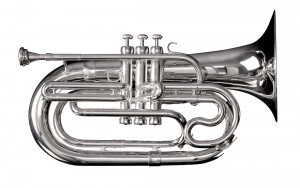 I am a proud member of the Temple University Diamond Marching Band. This is a group who knows how to have fun and has the loudest school pride I have ever seen. I play the baritone, shown in the image above. Don't worry if you have never heard of this instrument; not many have. I am also the equipment manager and a member of the TUDMB's Crew Committee, meaning I am in charge of all the behind the scenes work. The TUDMB has taught me life lessons that I would not have learned anywhere else.  Please enjoy the video of us performing above!
TEMPLE UNIVERSITY NIGHT OWLS COMMUNITY BAND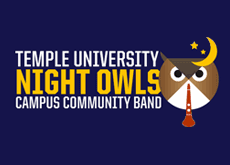 Another group I am a part of has been the Temple University Night Owls Community Band. This group is unique in that not all of its members are Temple students. The majority are either community members or Temple alumni who enjoy playing music.  Together the group is over 100 people strong and continues to grow each semester. For this group I play the flute.
TEMPLE UNIVERSITY COLLEGIATE BAND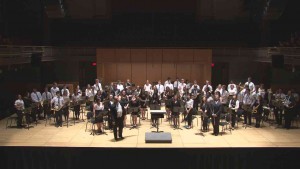 The Temple University Collegiate Band is comprised mainly of non-music majors, including many members of the TUDMB. I play flute for this ensemble as well. Mostly, I look forward to performing great pieces with great friends. The concert is April 30th at 4 o'clock at Temple University Performing Arts Center. Come by for some great music!