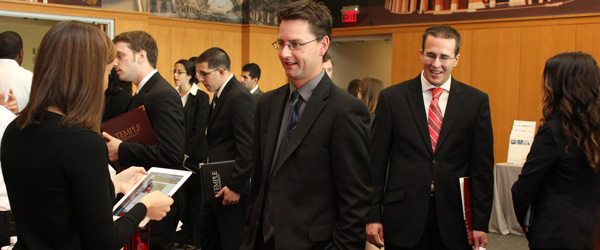 The Institute for Business and Information Technology (IBIT) will be holding an IT Career Fair on October 9, 2013 (Wednesday) from 11am-3pm in Alter Hall.  You will be given the opportunity to interact with top employers who are interested in recruiting Fox School of Business MIS, ITACS, Information Technology Management, Digital Marketing, and Digital Entrepreneurship students (both majors and minors). 
Employers from GSK, Lockheed Martin, AstraZeneca, Cigna, ARAMARK, Deloitte, Dow and Merck will be attending as well as many others. 
To participate in this career fair you will need:
1. To be CSPD'd
4. The deadline is October 2, 2013.
In order to have an approved eportfolio you must submit it to the above site for approval.  Please be sure to read all of the points on the samples and resources page before submitting your eportfolio.  A denial can be avoided by reading this page first and fixing any issues you may have before submitting your eportfolio.
Each student that registers by the deadline will receive free special business cards to hand out to employers at the Career Fair.  These special cards will list your name, major, email address and will have a QR code so that the employer can scan it with an iPAD and see your eportfolio while they are speaking to you.  Only these special business cards are allowed at the career fair.
If you miss the deadline of October 2, 2013, your registration may be denied. In addition, even if you are accepted, AIS will charge you for the special business cards.