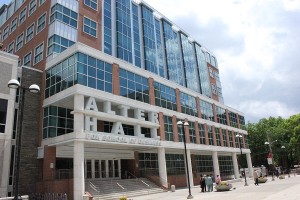 Organizations rely on information systems to automate their processes, store their trade secrets and accumulate a large amount of private data about their customers.  Along with substantial benefits, these systems bring risks. Has your data been compromised? Is someone stealing your secrets? Are you in compliance with government regulations? Can your organization continue to operate after a natural disaster?
The role of an IT auditor is to assess, manage, and control the above risks. IT auditors are responsible for analyzing organizational risks, communicating these risks, and applying solutions that reduce organizational threats, promote transparency and comply with regulations. IT auditors typically work on many different kinds of projects and enjoy a reasonable work-life balance.

The role of a cyber security professional is identify, analyze and address cyber risks.  Security professionals typically work to prevent intrusions,  detect them when they do occur and respond to them in such a way as to limit the business' losses.  Security professionals are currently in very high demand.
The Fox School's Master of Science (MS) in Information Technology Auditing and Cyber-Security (MS ITACS) program  prepares students as either  entry-level IT auditors or security professionals.  Our graduates  have the skills and knowledge needed to pass the Information Systems Audit and Control Association's (ISACA) Certified Information System Auditor exam or the International Information Systems Security Certification Consortium's (ISC2) System Security Certified Professional (SSCP) exam.
Personally, I believe that a candidate who goes through this program and ultimately becomes CISA certified will be well rounded and will increase his/her chances landing a job within their field of studies. In addition, the credential will give them an advantage over other candidates during the hiring process.
Thu Nguyen, Internal Audit Manager, Verizon
Founding member, Fox ITACS advisory council
Learn more about the CISA in this short video: