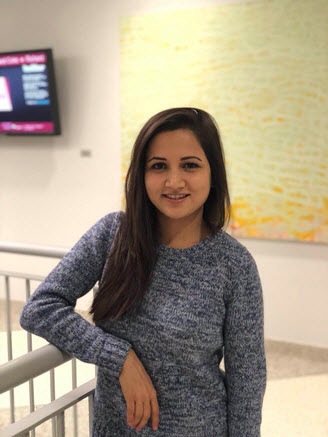 I am Binju Gaire. I am a Master of Science graduate student in the IT Auditing and Cyber-Security (ITACS) Program and will complete my degree in August 2018.
Prior to joining the ITACS Program I worked as a staff Auditor at Office of the Missouri State Auditor conducting compliance, financial and IT audits of local government and state agencies. My undergraduate degree is in Business Administration with concentration in Finance and International Business.from Westminster College, Missouri.
My biggest motivation to pursue ITACS at Temple University's Fox School of Business was to get a job and expand my knowledge of IT Auditing. After I moved to Philadelphia, I wandered around the main city and visualized myself working for companies with offices located in the area.
I took suggestions from my friend who had been through the exact process a year ago, and started my job search process the very first day I joined the ITACS program. My career coach from the Center for Student Professional Development guided me throughout the process. I was amazed with all the resources that the Fox School offered us. I constantly checked FoxNet to update myself on companies coming to campus to conduct information sessions. I researched the companies well before talking to their recruiters, and attended career fairs and other events that connected students with professionals from companies seeking to hire us.
I joined ISACA's Philadelphia Chapter, became a student leader of ISACA's Fox School of Business Chapter., and also joined ASCEND, Temple University's Student Professional Organization.  Each day I made new connections and learned new things on professionalism and networking. My daily routine was meeting industry leading professionals and following up with them through e-mails and LinkedIn.
I received my first job offer within a month and a half, and second one a month after that.  I was really fortunate to receive offers from two great firms from the "Big Four." I was able to connect with both the firms and loved the recruiting process with them. However, I had to decide on one offer. After discussing the opportunities with my family, career coach and mentor I decided to work for Deloitte, which aligns best with my career goals. I am beyond excited for this opportunity! It is a big relief to have a resolution for future plans!
I have thoroughly enjoyed the process. I loved the journey. There were new things I learned throughout the job search from my ITACS mentor, professors, and career coach. My job search was not stressful because I was well prepared, exposed to many opportunities and given tips everyday.
Coming to Temple has been the most rewarding decision of my life. I am absolutely loving it! I am very thankful to all the people in my life who have been a part of this decision.