Greetings and welcome to my e-portfolio.
I'm originally from Wildwood Crest, New Jersey and I attended Wildwood Catholic High. Over the past four summers, I have worked at the Aqua Beach Hotel, Gondolier Oceanfront Motel, Cabanas and Beach Creek Oyster Bar & Grill. My positions were front desk clerk and marketing associate.
I was inspired to study Management Information Systems through my work experience, observing and understanding how technological problems occurred, how to solve them and how to utilize technology to benefit the business. This left me with the drive to discover new technological systems that not only increase business efficiency but also improve business operations.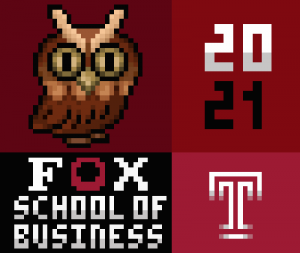 Fun fact: one of my hobbies is pixel art and when I was accepted into Temple I made this image.