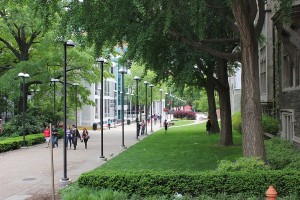 All applicants for admission into the ITACS program must hold a bachelor's degree from an accredited college or university, with a concentration in Management Information Systems, Accounting, or another related field. We expect applicants to have a GPA of 3.0 or better for their undergraduate studies.  Applicants must also have acceptable scores on either the GMAT or GRE, consisting of scores at or above the 75th percentile.
IT Audit Track
Regardless of their undergraduate major, applicants must demonstrate through course work or experience the knowledge and skills that would be developed in the following undergraduate MIS courses at Fox:
MIS2501 – Enterprise IT Architecture
MIS2502 – Data Analytics
MIS3504 – Digital Design and Innovation
Cyber Security Track
Applicants for our cyber security track must have a technical undergraduate degree in MIS, computer science or software engineering.  Significant experience in the IT profession can be substituted for this degree requirement.  All applicants must demonstrate a fundamental understanding of the following subjects:
Networks
Line command Linux or Windows
Software architecture
Transfer Options
The ITACS Program does not accept transfer credits from other universities.