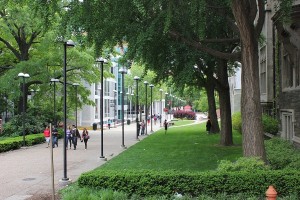 All applicants for admission into the ITACS program must hold a bachelor's degree from an accredited college or university. We expect applicants to have a GPA of 3.0 or better for their undergraduate studies and acceptable scores on either the GMAT or GRE, consisting of scores at or above the 65th percentile.  Applicants will need to provide academic transcripts; professional resume featuring work, internship and/or project experience; 2 recommendations from supervisors, instructors or colleagues; and a written essay.
In addition, applicants to the ITACS Cyber Security concentration are expected to have demonstrated knowledge of computers and information technology.  All applicants to the Cyber Security track must be able to demonstrate a fundamental understanding of the following:
Use of computer operating system (OS) command line interfaces (CLI) of Linux and Windows
How to navigate an OS' file system and manipulate directories, data files and binary executable files
Use of OS CLI to navigate computer OS file systems and directory structures
Introductory computer programming
Transfer Options
The ITACS Program does not accept transfer credits from other universities.
How to Apply 
Information on how to apply to the ITACS MS program can be found here.
Information on how to apply to the ITACS Certificate program can be found here.