Jack V. Granieri                                                          Jacob.granieri@temple.edu
tel:  484.374.5844
EDUCATION:
TEMPLE UNIVERSITY, Fox School of Business, Philadelphia, PA
Bachelor of Business Administration, to be awarded: May 2021
Major:  MIS
Fox Business Honors Program | University Honors Program
        GPA: 3.94 | Dean's List: Spring 2019
MICHIGAN STATE UNIVERSITY, Broad Business College, East Lansing, MI
GPA: 3.86 | Honors College
Dean's List: Fall 2017, Spring 2018, Fall 2018
ACTIVITIES & AWARDS:
IT Leadership Scholarship, March 2019
Member, Business Honors Student Association, January 2019 – present
Temple Scholar Award, 2018
Kent Family Michigan State University Endowed Scholarship, 2018
Michigan State University Scholars Award, 2017
EXPERIENCE:
CERTAINTEED CORPORATION, Malvern, PA
May 2019 – Present
Intern, Financial Planning & Analysis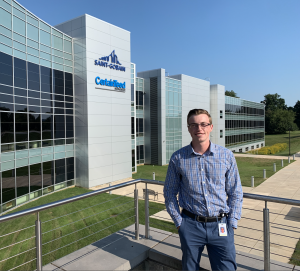 Supported team members in reporting the results of 5 distinct business units (generating $4.0B in revenue) to executives in the US and Europe.
Built templates for quarterly forecasting and sales/gross margin for 41 lines of business for each business unit, including subsidiaries of Saint-Gobain North America.
Assisted in managing repeatable financial reporting dashboards through the use of Excel & SAP magnitude for senior management review with value-added commentary and analysis.
Created & revised training manuals and videos for new budgeting software, CCH Tagetik, for administrators.
Leveraged SAP BEx, SAP Magnitude, Excel, and other systems to achieve reporting accuracy in expected timeframes.
TWO PARTICLUAR ACRES, Royersford, PA
(Seasonal) Jun 2014 – Aug 2018
Planted, mulched, weeded, and harvested crops on 37 acres of land.
Delivered crops to restaurants and breweries in the area
Led team of 4 when supervisor was offsite.
Built relationships with clients.
Obtained agricultural skills.
FIREBIRDS WOOD FIRED GRILL, Collegeville, PA
Dec 2016 – Dec 2017
Assisted servers and bartenders with their duties in a 200-seat restaurant.
Resolved guest concerns and problems to maintain brand loyalty.
Turnover dining room tables to keep service moving.
Hired as Guest Assistant and in 4 months was promoted to trainer and closer of Guest Assistants.
PWC CHALLENGE, CASE COMPETITION, Philadelphia, PA
Feb 2019
Visualized data in creative ways for presentation for PWC executives.
Analyzed case study data by SWOT, financial analysis, and employee outlook.
Built critical thinking skills.
Developed public speaking skills and presentation skills.
PENNSYLVANIA FREE ENTERPRISE WEEK, Williamsport, PA
Jul 2015
Team Finance Leader 
Chief financial officer of made up company for week-long business camp.
Assembled team of 12 and directed financial aspects of hypothetical company.
Developed financial plan and collaborated with multiple committees to make decisions and compile presentation for stockholders.
Team awarded 3rd place out of 30 teams.
NEIGHBORHOOD SERVICES, Collegeville, PA
Jul 2014 – Aug 2017
Part Owner
Established dog walking business in neighborhood.
Maintained over 10 clients through the years because of quality service and low prices.
SHOOTING STARS, Royersford, PA
Sep 2015 – Aug 2017
Volunteer Coach
Coached special needs players aging from 5-21, in various sports programs.
Responsible for group of 5 players during each weekly session.
SKILLS & LANGUAGE:
Basic JavaScript – Programming
SAP (BW & Magnitude)- ERP System
Microsoft Office Suite – Excel, Access, Word, PowerPoint, Outlook
Spanish – conversational