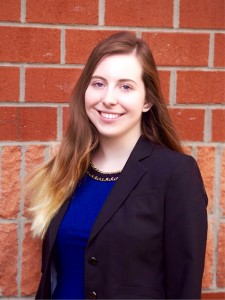 Marlea Tremper
Major: Management Information Systems and Spanish          
Certificate in Geographic Information Systems
GPA: 3.8
Graduation: May 2018
Welcome to my site! My name is Marlea Tremper, and I am a Junior in the Fox School of Business Honors Program.
This summer, I will be an IT Infrastructure Intern at QVC. I also completed an internship as an IT Architecture intern at Highmark Health Solutions during Summer 2016.
I value organization, collaboration, and structure, and enjoy tackling problems using an analytical perspective. I believe that analysis and communication are two of the most important aspects of business, and I have structured my academic experiences around this belief by studying Spanish intensively during a semester abroad in Oviedo, Spain. As the business world becomes increasingly globalized, strong communication skills, especially in a foreign language, are invaluable. I want to learn about information systems in business settings in order to create effective solutions for firms in technology driven environments, and also help companies adjust and compete in a world with rapid globalization.
Within my studies and work, my interests include data visualization, IT architecture, analysis, linguistic data mining and geographic information systems.
Outside of my studies and work, my interests include reality television and food.
Feel free to explore my e-portfolio to learn more about me, and please do not hesitate to contact me with questions or comments!
Contact Information
marlea.tremper@temple.edu
Click here to visit my LinkedIn profile!
Click here to view my resume!