Flashnotes

In the spring of 2014, while I was making a risk management study guide, I stumbled upon Flashnotes.com.  Flashnotes is an online marketplace for school-specific study materials that allows students to buy and sell their self-created and original notes, study guides, etc.  However, I noticed that there wasn't any study material from Temple University students.  I decided to email the CEO to express my interest in his website and notify him of the potential market for Flashnotes at Temple University.
The next morning, I received a phone call from the CEO, Mike Matousek, asking if I could video chat with him to further discuss Flashnotes.  During the interview, Mike offered me the opportunity to launch Flashnotes at Temple University and manage all Flashnotes operations on Temple's campus as the Campus COO of Flashnotes – Temple University division.  I eagerly accepted the position and got right to work.  My first order of business was to recruit, interview, and hire a team of notetakers, recruiters, and marketers to help introduce Flashnotes to Temple University.
Flashnotes was a great success throughout the 2014 spring semester.  Many students were eager to be able to earn some extra cash while enhancing their study habits at the same time.  At the conclusion of the spring semester, my team and I achieved 700+ sales, 450+ buyers of assorted study materials, and $5,500+ in sales (gross).
In addition to my academic responsibilities, I was responsible for the overall operations of a six figure business.  I managed employees, controlled payroll, created marketing strategies, and hosted events.  Mike Matousek gave me a tremendous opportunity to essentially manage a business as a college student, and I learned a great deal during my time as COO of Flashnotes Temple University division.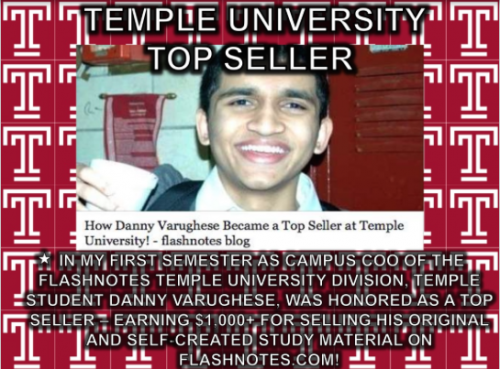 ---