Mary Jones is for transfer students, freshman should look at Josie Smith.
Junior
Mary Jones just completed two years at another institution and is now transferring to Temple as a Junior.  She has declared MIS as her major.  She knows that she has a requirement of 1000 points in order to graduate and she wants to start working on the points as soon as fall semester starts.  She also understands that this will take her 2.5 years to graduate (unless she takes MIS 2101 in the summer before she starts at Temple).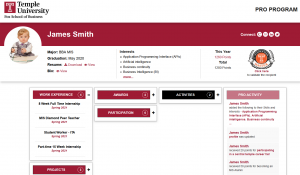 The first thing that she does in the fall semester is she creates her portfolio.  Since she is already a Junior, she wants to get started with this because she has looked at the MIS community site and understands that the portfolio is very important to her success as a MIS major.  Mary uses the tips and tools on the MIS community site to start her portfolio on her own.   She submits her basic portfolio and gets her first 50 points, which she can see on her Professional Achievement dashboard.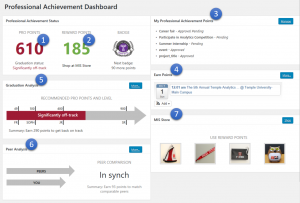 Here she can also see how she is doing compared to other students who are comparable to her class wise and she can track how she is doing in regards to graduation.
Mary is not satisfied with just having 50 points at the end of the fall semester so she also signs up for the IT Career Fair in the fall.  She really wants an internship for this coming summer and has heard that she needs to start early to get one! Attending the IT Career Fair gets her another 50 points.
Meanwhile, Mary has also signed up to be part of the Association for Information Systems or AIS.  AIS is the student organization for MIS students and they hold weekly meetings and workshops where students can earn points.  Mary ends up attending five professional development workshops held by AIS during the fall semester and earns 50 points.  She is also an active member in AIS, which means she has an portfolio, she attended at least 7 speaker series meetings, 1 social event and 2 community service events so she gets another 50 points.
The Spring semester rolls around and Mary decides to take a look at the PRO Points Calendar, which is available on the PRO site and is open for all students to see.  She sees an interesting event that is happening in a few days on campus about starting a business so she signs up for the event.  Since it is preapproved and on the PRO Points Calendar already, she does not need to do anything else prior to her attending the event except register.  After the event, Mary logs in to her Professional Achievement dashboard and clicks on manage points to add in the start a business event she just attended.  She knows that she has to submit this event within three months of attending so she makes sure to do it right away so she does not forget.  Mary submits her supporting documentation, which in this case, is her nametag from the event.  In a few days, she checks her Professional Achievement dashboard and she sees that she has earned 25 points for attending a professional development event at an external organization.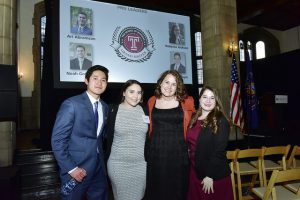 Spring semester also brings about the big event for MIS students, the IT Awards Reception.  Since Mary knows how important it is to network, she signs up for the event and signs up for a volunteer slot.  After the reception, she receives another 25 points for attending and 25 points for volunteering.  Mary also attended five more AIS workshops this semester and she was an active member, earning her 100 more points.  That brings her up to 475 points for her Junior year at Temple!
Mary was able to secure an IT related internship at QVC during the summer.  Upon completion of her summer internship (which was more than 8 weeks), Mary submits her request for professional achievement points.  She attaches her offer letter to her request and in a few days receives 400 points for completing the internship.  Also during the summer, Mary competes in an IT related challenge off campus.  Since she got it preapproved before competing, she is able to submit this challenge for 50 points.  She did not win but it was a great experience!
Senior
Senior year rolls around and Mary is even more involved in AIS this year.  She is an active member, both in the spring and the fall semesters (100 points), she is an AIS officer (75 points), and she attended five workshops in the spring (50 points).  She also attends the IT Career Fair (50 points) and the IT Awards (25 points) again this year.  Mary was a volunteer at the IT Career Fair this year and received 25 points for assisting with a department event.
Mary and a team of other MIS students entered into the Temple Analytics Challenge in the fall and received 50 points for participating.  She makes it to the finals and wins first prize!!  This earns her another 100 points.  Mary also attended a professional development event off campus and did get it preapproved beforehand.  She earned 25 points for that.  During the semester, Mary was invited to meet with an IBIT Executive in Residence during the spring semester and received 25 points.  She is now up to 1450 points at the end of her Senior year.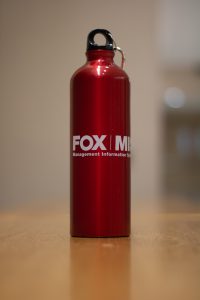 Mary wants to have some MIS schwag so she visits the PRO store to redeem some of her reward points.  She knows that redeeming her reward points will not affect her PRO points at all.  She decides to get a water bottle and a MIS pin to wear at the events in the fall.
At the beginning of her last semester, Mary has enough points to graduate but she wants that Grand Master Badge so she stays engaged.  She is very proud of herself for being so involved in the department.  She was a little worried that coming in as a transfer student would hinder her in earning points but it was really easy and fun!  Mary is involved with AIS this year again.  She is an active member, both in the spring and the fall semesters and is also an AIS committee member (115 points).  She also attends the IT Career Fair (50 points) even though she has a full time offer from QVC.  You never know when you will want to change jobs so Mary networks and makes her connections.  She reported that full time job offer and received 100 points for submitting her offer letter.  She also attends the IT Awards (25 points) again this year.
This brings Mary up to 1740 and she has her Grand Master badge on her portfolio now! Since it is time to graduate, Mary wants to redeem the rest of her Rewards points so she visits the PRO store and cashes the points in for some cool stuff!