Academic Tutor- Resnick Center, Temple University (August 2020-December 2020)
I currently serve as an academic tutor for student athletes through the Resnick Academic Support Center. I have weekly, fifty minute, individual sessions with students where we go over class concepts to ensure understanding. This role has allowed me to combine my academic success with my passion for helping others. Each student has individual needs and strengths, and part of my role is to build our sessions and my approach based on the individual student. I have enjoyed my time in this role thus far, and I look forward to how it will help me learn and grow in the future.
Director of Operations- Fox College Council, Temple University (July 2020-Present)
I currently serve as the Director of Operations for the Fox College Council for this academic school year. My primary responsibility includes dealing with the internal operations of the College Council team, to ensure that the team is running smoothly. I also am responsible for keeping the College Council website up to date, and ensuring effective communication between the College Council and the presidents of the Student Professional Organizations (SPOs) here at Fox. This role has helped me strengthen my organization skills and be exposed to website editing through Wix.
Owl Ambassador- Undergraduate Admissions Department, Temple University (January 2020-Present)
I currently serve as an Owl Ambassador for the Undergraduate Admissions Department at Temple University. In this role, I interact with incoming students and families and give fact-based tours of Temple's campus. Another function of my role is to provide assistance with administrative work and complete front desk responsibilities. More than anything, as Owl Ambassadors we take pride in being the first point of contact between perspective students, and we take responsibility for giving visitors a positive and informative view of Temple University. This role has helped me develop my communication skills greatly, and I continue to improve with every week of tours. My favorite part of this role is talking to many students of varying backgrounds and experiences that are interested in coming to Temple, and I am proud to be a part of their college decision process. I love answering their questions and giving them my student perspective of Temple University. Pictured below is my tour group during my evaluation, as a tour guide we have to pass an evaluation before we are allowed to give tours on our own. I passed with flying colors, and this group marked my first tour!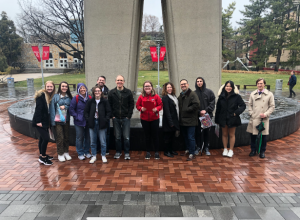 Healthcare Data Entry Management Intern- Gale Healthcare (May 2020-August 2020)
As an intern for Gale Healthcare, my main responsibility was to ensure that all of their employees had the proper credentials to work in various healthcare facilities. I audited their employee file management system to determine if their employees are missing any of their paperwork, and then contacted those employees to fix the missing credentials. I was also responsible for ensuring that employees without the proper credentials were unable to work until they provided new ones. Throughout my internship, I audited employees in multiple states, including Pennsylvania, Maryland, and New Jersey (to name a few).
Intern- Pittsburgh Cultural Trust Development Department (September 2018-November 2018)
As an intern for the development department, I assisted administratively with account management to ensure donor record accuracy. I also assisted various members of the development department with other tasks, such as preparing for meetings and events. Some of the most important skills I learned throughout this internship were detail oriented thinking, as well as working collaboratively. I was very thankful to be exposed to the functionality of a thriving arts organization.