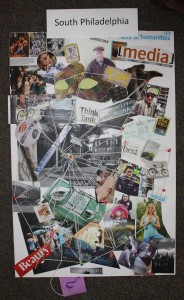 What are public libraries, how do they reflect the community, and what innovations will allow them to remain relevant? These were the central questions that governed the recent Design+Innovation workshop at the Free Library of Philadelphia, led by Professor James Moustafellos and funded by the Knight Foundation in support of the library's innovation initiative.
Part of a series of arts-engagement events, the workshop hosted 40 participants and tapped eight MIS undergraduates from Moustafellos' Digital Design course to serve as group leaders, analysts, and ethnographic research assistants.
The students worked directly with senior library administrators, library staff, and community members to create portraits of five pilot libraries for an upcoming large-scale renovation—thus applying their MIS-imparted skills in a complex, hands-on, real-world setting.
"The library [and network of libraries] is itself an information system," Moustafellos said. "It enables people to access information, to perform tasks, to interact with technology and get things done."
The four-hour event was the culmination of several weeks of background research and ethnographic field work. The students' preparations included taking photographs, logging notes, and conducting interviews in and around the surrounding communities.
"The branch I worked with has a fascinating history of immigrants coming to change the local flavor multiple times in the past century," said student participant Michelangelo Collura. Added fellow student Emily Wylde: "The most rewarding part was being able to learn so much about the community and the impact that the library has on it."
During the workshop, the attendees split off into smaller teams, each of which created three-dimensional models to visually express the concept of "community"—and what a library within that community represented.
"It was so interesting to visualize the interaction between the library and all its members," said Moustafellos. "It was a great surprise to see models so rich and revealing."
Attendees comprised both local residents and artists selected to have their original work appear in the libraries after the upcoming renovations. Reflecting on the event's success, student Andre Messa concluded: "Being able to witness complete strangers coming together for the better of their community was amazing. I was glad to be a part of the experience."