MIS students have access to the latest and most exciting new technologies. The Fox school is housed in the state-of-art Alter Hall, and the MIS department provides students access to exclusive technologies and labs.   
TEMPLE UNIVERSITY TECHNOLOGY RESOURCES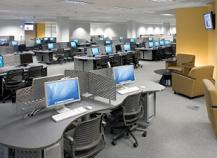 The TECH Center is a state-of-the-art technology facility that includes collaborative and individual student workspaces, it is the largest of its kind in the U.S. The center enables students to meet, study, collaborate, relax, and take advantage of 700+ computers, specialty labs for video and audio, loaner laptops, breakout rooms, 24 hour help desk, and Starbucks coffee. 
MIS students have access to the excellent resources provided by Temple University's Computer Services division which include Outlook 365, Google Docs, cloud storage, online library, a smart card system, campus-wide wireless, free online training through LinkedIn Learning, and classroom capture and video conferencing facilities.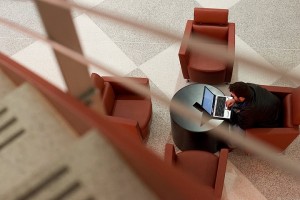 FOX SCHOOL AND ALTER HALL TECHNOLOGY RESOURCES
MIS students take their classes in Alter Hall, which includes the latest classroom technology including dual projectors and class capture (review a class session later over the web). There are email stations in common areas, and breakout-style meeting spaces with computers and large plasma screens. A wireless network covers the entire building, including the lounge spaces, and provides wireless printing.  
THE MIS COMMUNITY PLATFORM
The MIS community platform is a student professional development and learning management system that fundamentally transforms how students, alumni, faculty, staff, and industry partners interact. Every member of the community is a node that can discover and engage with others. The platform supports the unique MIS professional achievement program in which students earn points for development activities and display their achievements on integrated e-portfolios.