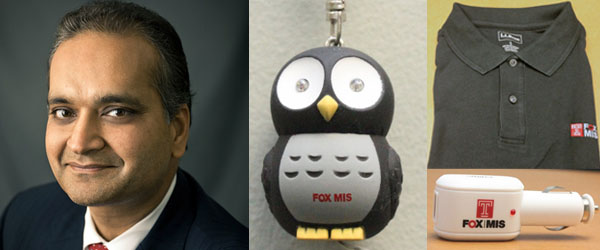 FOX MIS students have been accruing professional achievement points and badges all year long for IT-related work, participation in AIS, and e-portfolio contributions. Sure, these points ultimately enhance an individual's career, development, and future — but do you know what is even better? Now students can redeem said points at FOX MIS' online store! 
That's right! Trade in your virtual moolah for one-of-a-kind, FOX-branded merchandise, like this really cool lanyard or this zipper wallet. Because nothing says "I'm going places" like an owl keychain. Once you've channeled your love of FOX MIS into the purchase of extensive branded merchandise, you can also use points to schedule one-on-one lunches with esteemed Fox IT Advisory Board members Niraj Patel and Bruce Fadem. (Just be sure to bring  your high-quality stylus for note-taking.)
In summary, it's basically like Chuck E. Cheese, except with learning, and no ball pit. (Yet.)
Keep up the great work!