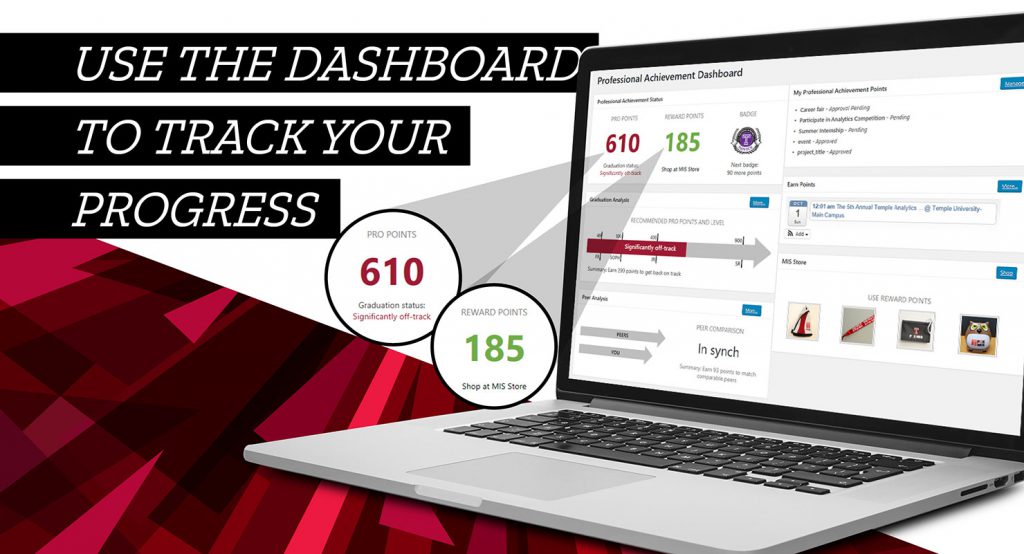 MIS announces the successful rollout of version 4 of the Community platform professional achievement program. Since 2008, the program continues to break new ground in creating a structured measurable process for student professional development that provides recognition, external and internal branding, and opportunities for high achievers. The program pioneered at Fox MIS has been licensed at other universities, while portions have been copied by others. 
Changes in version 4 include:
New e-portfolio design with interactive customizable widgets that highlight professional achievement and a verified badge
New Dashboard analytics to manage graduation requirements and comparison with peers
New much simpler PRO point submission, review, and management process
More PRO point earning opportunities (e.g., study abroad)
New calendar to locate PRO point earning opportunities
More curriculum checkpoints for on-time graduation
New PRO site that integrates all the information related to the program
Much better swag
New name – PRO!
According to Dr. Munir Mandviwalla who is working on the project with Assistant Director Manoj Chacko and Assistant Professor Laurel Miller: 
PRO provides the structure for professional development. The goal is for students to get good jobs; so the e-portfolio badge summarizes professional achievement, the points widget lists the activities, while the posts show how each activity influences professional development. Finally, PRO points measure activities so that students can get started early and stay on track using analytics available on an integrative Dashboard. 
As part of the above roll out, the overall MIS Community site was updated with new content, a new mobile responsive look and feel, including the new Community activity widget. The e-portfolios of faculty, staff, and Master's students also have a new mobile responsive look and feel with capabilities that integrate with the main site (e.g., research news).