The nationally ranked Fox BBA Major in Management Information Systems (MIS) produces leaders who initiate, design, and apply technology to transform business functions and produce innovative products and services.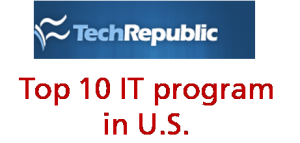 The program is ranked in top 15 by U.S. News and World Reports. It was also ranked top 10 in the U.S. by TechRepublic. Fox MIS students are sought by the top firms in the nation, and the placement rate was 100% for the class of May 2012.
The BBA in MIS prepares students for a digital centric economy in which large and growing IT centric firms provide infrastructure like services that smaller entrepreneurial firms re-imagine to create innovative and value added services for consumers and business.

Fox MIS students will successfully compete in a world in which traditional large corporations continue to streamline their IT operations but grow by adding new technologically enhanced innovative capabilities. 
Fox BBA MIS students will learn to:
Initiate and lead technology enabled change (e.g., act as a change agent in a large firm)
Analyze and design innovative digital products and services (e.g., create and implement the social media strategy for a new start-up)
Apply IT to automate and improve business processes (e.g., patient information system for a hospital)
Transform a business function with IT (e.g., use iPhone apps to reach new customers)
Analyze clients, specify needs, integrate applications, and manage projects (e.g., select and acquire a new web conferencing system)
Over the next seven years, the number of jobs in the information technology sector is expected to swell 24% – a figure more than twice the overall job-growth rate.

Time Magazine, May 25, 2009
CURRICULUM
Required courses
MIS 2501 – Enterprise IT Architecture
Specify the IT architecture of the enterprise and understand digital platforms and ecosystems
MIS 2502 – Data Analytics
Analyze and present insights from business data
MIS 3501 – Data-Centric Application Development
Learn how to develop data-centric applications using scripting
MIS 3504 – Digital Design and Innovation 
Create innovative technology enabled corporate and consumer products/services
MIS 3535 – Lead Global Digital Projects
Lead technology-enabled and process-centric transformation
MIS 4596 – Information Systems Integration
Apply and evaluate enterprise information technology assets and capabilities. Work in teams to participate in a real-world project.
Selected electives
MIS 3536 – Information Systems Innovation
Apply IT to create business opportunities for both new entrepreneurial ventures and traditional firms.
MIS 3537 – Internet Enabled Supply Chains
Learn how firms revolutionize their supply chains on the Internet.
MIS 3538 – Social Media Innovation
Learn new business models that apply Web 2.0 and social media.
MIS 3580 – Special Topics
Special course that brings in new topics (previous topics: ERP, mobile application development, Cyber-security)
MIS 3581 – Co-operative Experience in Management Information Systems
Gain course credit for practical work experience and internship opportunities. Learn more about internship opportunities…

More information
THE FOX MIS EDGE: CONNECT AND INNOVATE
CAREERS AND PLACEMENT
Fox MIS BBA majors get placed in the top firms in the region and nationally. The Fox MIS careers site provides a one-stop placement and internship site for students majoring in MIS. The Fox IT Career Fair includes top employers and is only open to MIS students. Click the links below to learn more about careers in MIS.
LEARN MORE
Review the qualifications of our internationally renowned faculty
Read the material on Why Fox MIS? and What is MIS?
Contact the students of our award winning student professional organization on Facebook
Check out scholarships available exclusively for Fox MIS students.
If you are a high performing motivated student – we want to recruit you – please contact Joe Allegra at jallegra@temple.edu