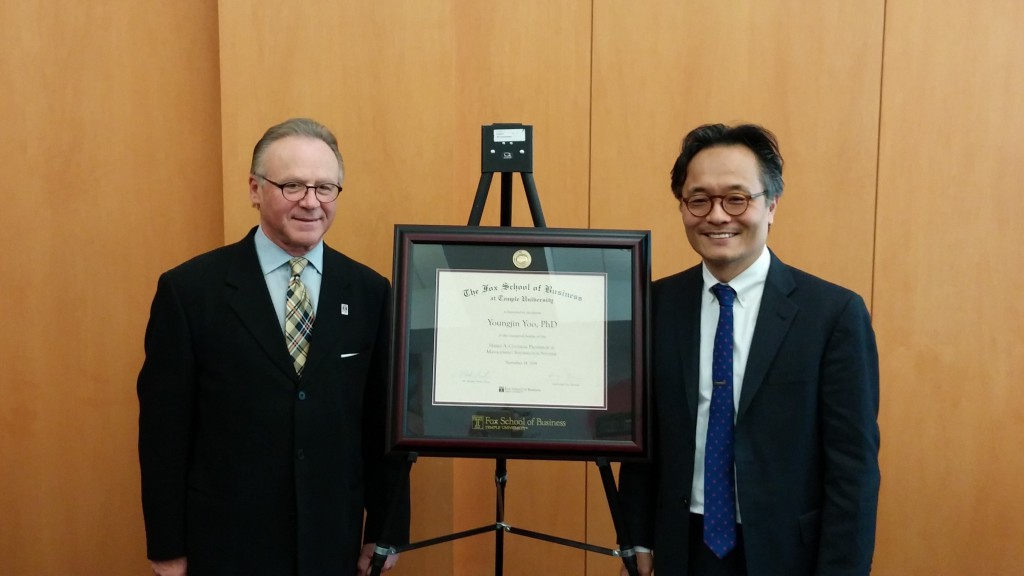 Getting a named professorship is like making it to a pro ball team, says Dr. Youngjin Yoo, Professor of Management Information Systems and Director, Center for Design and Innovation, Fox School of Business and Management, Temple University.  On Friday, November 14, he was named the "Harry A. Cochran Professor of Management Information Systems" at the Fox School's Research and Teaching Award ceremony.
Harry A. Cochran is "the dean who laid the foundation upon which the Fox School of Business thrives," said Fox School Dean, M. Moshe Porat, "being recognized as the inaugural holder of a professorship in his name is a significant honor."
The honor is not, Yoo says, just a validation of his research but of the ideas he pursues.  The unique viewpoint– that digital technology is now ubiquitous, in every part of our lives, and that it requires a mix of creativity, innovation and even a little philosophical examination to manage and effectively use technology and the tools it creates- is one that has evolved over years of study, research and life.
"When Youngjin first came to Fox, we not only saw in him a good researcher, but also what I like to call an academic entrepreneur," Porat said. "He's not simply someone with an idea who follows the conventional way of thinking. He always finds a different angle, using a creative, innovative and contrarian way of thinking. He has distinguished himself in his research, in the grants he has received and in the creativity that he has brought to the Management Information Systems department and the Fox School of Business."
Why is Yoo so creative, innovative and contrarian?  The answer dates back to Yoo's experiences as a student in South Korea. "How," Yoo asked then, and still ponders now, "can I think about ways to improve human lives with the tools and resources we have?" As a teenager Yoo was determined to become a government civil servant, one of the obvious paths (along with doctor, lawyer or engineer) open to smart kids growing up with limited resources. Until he entered Seoul National University and found himself studying management and business administration; the econ department didn't want him.  At university, Yoo read a passage which he says changed his life: If academic disciplines start from pure science to applied one, then management is the ultimate destination of applied science as it explores ways to improve human lives by mobilizing all the resources that the creator has given to people.
It was also at University that his determination, and maybe his ability to be contrary, were forged. Early on he made one trivial arithmetic mistake on an exam in his operations research class and earned a low final grade, despite his protestations to the professor that it was a small mistake. Yoo spent two years studying the material and signed up for advanced operations research, determined to prove the professor wrong in his assessment of Yoo's ability. The first day of class, he answered a question correctly and, when asked, explained his answer so well that the professor told Yoo he, too, should teach.  The professor then wrote a recommendation for Yoo to study in the U.S. Yoo earned his Ph.D. in Management at the R. H. Smith School of Business, The University of Maryland, College Park, Maryland in 1997.
The rest of the story is a multi-faceted journey of research and publishing in the areas of digital innovation, design, organizational genetics, and the societal use of technology.  He is currently a senior editor for the "MIS Quarterly" and other journals. He's worked with industries ranging from Samsung Electronics to American Greetings and, recently, was featured (with 12 other technologists) in Philadelphia Magazine's, "The Smartest People in Philadelphia." And, of course, he's taught.  His university experience is global, ranging from Sweden and China to the more local world at The Weatherhead School of Management, Case Western Reserve University.
At Temple, Yoo has worked both inside and outside the classroom; he's the Founding Director of Center for Design+Innovation at Temple. 
Design is, Yoo says, "the driver of innovation, particularly in the digital domain.  Digital technology is a force that destabilizes things…blurs the boundary of product and industry, and design is how we re-imagine things." 
So, like musical notes or written language, digital technology will never "remain in a box" and must be created and re-created. "Design is inseparable" from digital technology, Yoo says. The necessary creativity can be found in surprising places.
Recently, Yoo's taken his work to the streets of Philadelphia and brought Philly teenagers onto campus via Temple's Urban Apps and Maps Studios program (funded by The Knight Foundation and EDA.) The project teaches teens design, coding, and story telling so they can create apps that help solve problems encountered by residents of urban communities—like turning vacant lots into viable urban community farms. The students are "awesome" Yoo says.  "They do things we don't think about…a goldmine of creativity."
Yoo says that working with high school students isn't the only surprise he's encountered over the past few years.  The fact that he's become a named professor, his own success, still seems to startle him. He's "honored, flattered…it's great news." But he's not ready to rest on his laurels or bask in his new title. Yoo's moving forward by looking back—at 200 years of technology, and how it was managed and has been a driver of economic change.  
That econ department in Korea?  They don't know what they missed.