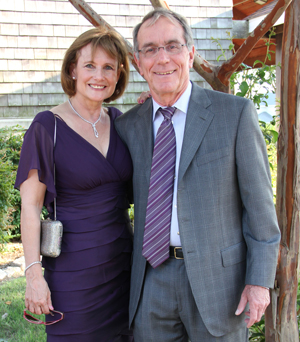 Andrea Anania, who retired from CIGNA as Executive Vice President and Chief Information Officer ten years ago, only had one option for her undergraduate degree: the City of New York system because it was free. Her parents simply lacked the funds to support her.
In honor of that formative experience, she and her husband, James G. Stewart, decided to endow a $50,000 scholarship for one student in the MIS program each year (matched by the Fox School for a total endowment of $100,000), beginning fall 2017. Anania, who went on to have a successful career in information technology, and her husband believe very strongly in the value of an education.
"I had to work my entire way through college, and I hope this scholarship relieves some financial pressure for the recipients so they can focus on their studies," said Anania, who ended up receiving an excellent free undergraduate education from the City of New York system. "In addition, it would be wonderful if it also helped some students make the decision to come to Temple rather than go elsewhere."
As a Fox IT advisory board member, Anania feels particularly passionate about the Management Information Systems program at Temple because she has seen it blossom under the leadership of Munir Mandviwalla, Ph.D., who has created vibrant partnerships with industry to help shape the program's curriculum, provide input into research topics, and educate a pool of qualified candidates.
Mandviwalla has also used the program's advisory board to remain responsive to changing demands in the marketplace, enhancing the curriculum's focus on software development and project management. Anania noted she feels that the students coming out of Temple's program are highly qualified to enter the workforce.
"I have formed a deep relationship with Temple over the years and wanted to continue to strengthen the field where I had a very meaningful and challenging career," said Anania, explaining why she chose to endow the scholarship at Temple.
Particularly, Anania and Stewart are interested in helping smart students with good work ethics succeed.
"Temple attracts that type of student," she said. "It is tremendously gratifying to know this scholarship could help diligent, intelligent students who only need some financial assistance to make their dreams come true." 
– Elizabeth Hillaker Downs