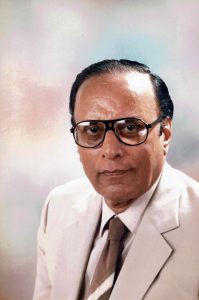 The new Yusuf G. Mandviwalla endowed scholarship fund will provide financial support to undergraduate students majoring in MIS who have both financial need and high academic performance. The $50,000 endowment, which includes a match from the Fox School, was created by Munir and Nazneen Mandviwalla in memory of Munir's father Yusuf G. Mandviwalla.
According to Dr. Mandviwalla "my father was a successful entrepreneur who believed in providing educational opportunity regardless of background or means, and supported many young people during his lifetime in Pakistan."

"I am pleased to create this scholarship in his memory to give back to the MIS community," said Mandviwalla, who is the outgoing chair of the Department of Management Information Systems, which he founded in 2000.
In addition, an anonymous donor has made a generous gift to establish an endowed scholarship which, when fully funded, and matched by the Dean's special matching gift program, will endow another MIS specific scholarship fund of $60,000.